Hellooo shimmers,
I thought I would share with you a selection of products that I use everyday or most days. I have had a few requests for posts simiar- everyday beauty products, beauty products (not makeup) you use alot, beauty (not makeup) products you recommend. So I decided that this incorporated those posts into one.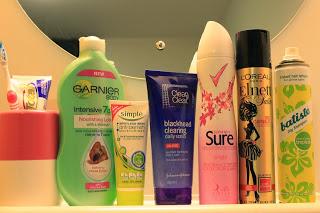 Generally when I find products I like I will stick with them; until either I dont like it or I decided it may be time for a change.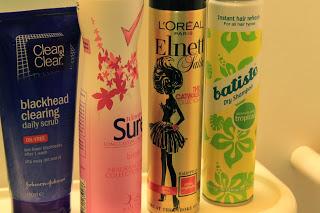 From left to right- Clean and Clear Blackhead scrub, Sure Deodorant, Elnette Satin Firm Hold, Batiste dry shampoo.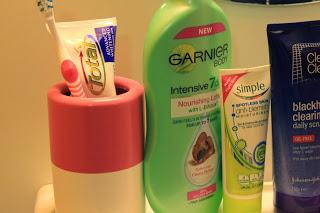 Tooth Brush, Colgate Total advanced whitening toothpaste, Garnier Body Intense seven day for dry to extra dry skin, Simple Anti-blemish face moisturiser.
There we have it my most used products, my most repurchased products.
Laura x
p.s. apologies for the lack of posts at the moment, I have just been so busy with university and so shimmerofpink has taken a little bit of a back seat. But hopefully things will slow down a little bit soon.