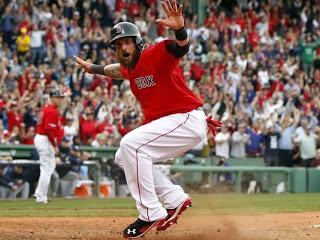 The Red Sox won their first postseason game since 2009 yesterday at Fenway, with a resounding 12-2 win over Tampa Bay to get the ALDS off to a great start.
Jon Lester was terrific for 7 2/3 innings, allowing just two solo home runs, and three hits. The first home run really never should have happened, as he clearly had Sean Rodriguez struck out on a 2-2 pitch that was called a ball. Lester then threw a meatball down the middle of the plate that Rodriguez belted into the Monster seats for a 1-0 lead.
The Sox were down 2-0 in the fourth when the Sox scored five runs. With a man on first, David Ortiz hit a ball that from the angle of the cameras was going out to right. But at the ball was coming down, it was clear that Wil Myers could have caught the ball on the warning track. But he pulled up, thinking that Desmond Jennings was going to take it, and it one-hopped into the bullpen for a double. Jonny Gomes doubled in two runs to tie it.
Stephen Drew hit a roller to first base with two outs, and beat the throw to first base with the pitcher covering by an eyelash, and the hustling Gomes came around to score. Will Middlebrooks doubled in a run, and after Jacoby Ellsbury reached on a strikeout and passed ball, Shane Victorino made Tampa Bay pay with a single to cap the scoring.
In the fifth, Jarrod Saltalamacchia doubled in two runs and Will Middlebrooks drew a walk with the bases loaded.
The Red Sox added four more in the 8th for good measure. Shane Victorino singled in a run, Mike Napoli walked with the bases loaded, Gomes hit in a DP bringing in another run, and Salty singled in 12th and final run of the day.
My pal Jere was at the game yesterday, and has a good summation of the events over at his blog.
It was a day when everybody got in on the act, as for just the third time in postseason history, the starting nine of a team each had a hit and a run scored. 7 of the 9 starters also had at least one RBI. And the Red Sox did it all without a single home run. (They were out-homered by Tampa Bay 2-0, and won, 12-2.)
John Lackey goes for the Sox this afternoon in Game 2 at Fenway against David Price.