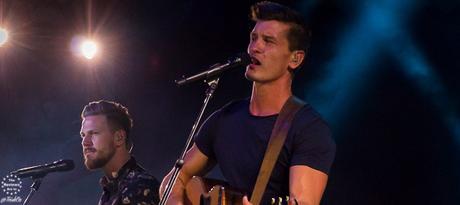 They've come a long way from home up in La Crete, Alberta... and the way things are going, it looks like High Valley have a lot further to go before things are all said and done.
On Sunday night we headed out to the CNE in Toronto to catch up with Brad and Curtis and check out their set, which closed out three nights in a row of country music in the city. The last time we caught up with the boys was at Boots & Hearts 2015, so there was a bunch to find out, in our few minutes before Jess Moskaluke hopped up on stage to kick-off the night.
Note: It's amazing how great the members of the Canadian country music community are, it really is. On Sunday we were able to bring my mom to the show as a birthday present, and High Valley were awesome when she had a chance to say hello at the start of our interview. Class acts, as we expected, and as she'll always remember.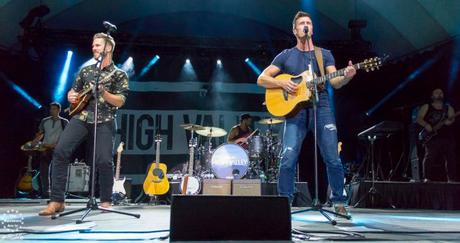 It turns out Sunday was a long day for High Valley. In fact, it started in Wisconsin, and the bus rolled all the way to T.O. in time for the boys to get themselves ready for a Canadian crowd in the middle of a busy summer. If you've been following Brad and Curtis's adventures via social media you know that they've had shows on stages all over the place in the last 12 months, playing to new cities and new crowds along the way.
We asked them about some highlights, and they told us that Boston was pretty cool with about 7,000 strong singing Make You Mine back at them at the tops of their lungs. But it was London (yes, the big London) that blew them away when the entire crowd seemed to know the words to every song they played. They knew the Canadian radio hits, they knew the b-sides, they knew the acoustic YouTube stuff... as a non-traditional country market, that's pretty awesome.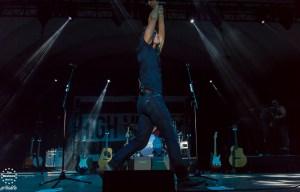 We haven't been able to ask them how the CNE crowd compared to London from a sing along standpoint, we can tell you that a whole lot of people were out having a good time on a Sunday night. There were rows of people crowded in at the front of the stage to dance along, there were rows and rows and rows of people in the bench seats (sitting for a while, then standing with the rest of us) and all of them were clapping and moving, and yes, singing.
On stage the Rempel brothers gave us all the energy we could have hoped for, some laughs, some faith, some chances to get loud - and all the songs we love from the band... except maybe On The Combine, we missed that one. Throughout the show they moved and joked and told stories about family and songs, giving us the things that we love about country shows.
We know the guys didn't have their families with them on the trip, so we asked about being able to balance the road and home (Nashville), and they told us that they work really hard to make it fit for them. Whether that means going home for a day or two, or bringing their families out on the road with them for a few days at a time to make sure everyone gets together time. They don't want their kids to feel like they were raised on a bus, and we get that, but it sure does sound like it's tough to be away, and that they're doing everything they can to put it all together.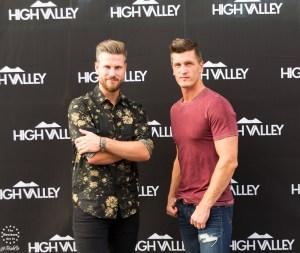 And lastly, and maybe most importantly, we asked about the new album coming later this year! Brad and Curtis both seem to be really excited about this one, and there's reason to be for sure. The November release will be their biggest, with a full international release on the same day, giving fans all over the world access to the tunes at the same time for the first time. The record also starts their recording and release career with Warner Music Nashville, which is a huge step for two brothers who started things with a 4,000km trip from La Crete to Nashville.
Check out the brand new single from their upcoming release, Every Week's Got A Friday (call your local country station to request it) and stay tuned for more from the Rempel brothers soon!
High Valley Set List, CNE 2016
Come On Down
I'll Be
Rescue You
She's With Me
Young Forever
Be My Baby Tonight
Love You For A Long Time
NEW SONG
A Father's Love (The Only Way He Knew How)
I'll Fly Away
Make You Mine
County Line
Every Week's Got A Friday