Hi everyone,
I am sure you may have heard about this brand Everteen if you are based in India as they are India's premier line of products catering to intimate hygiene and care. I have reviewed their products previously as well and I have been using them ever since. Talking about women's hygiene I am very much particular about it especially during that time of the month - yes I am talking about mensturation (periods). Honestly I hate those days but it is natural and a part and parcel of women's life. I have tried all the possible brands for sanitary napkins/pads and I am very particular about the ones I like. I was excited to try this one as it said 'Cotton' because most of the pads have made my life miserable as I get allergies from them. I have tried the Everteen Natural Cotton Sanitary Napkin and I am here to tell you more about it. Read on to know more....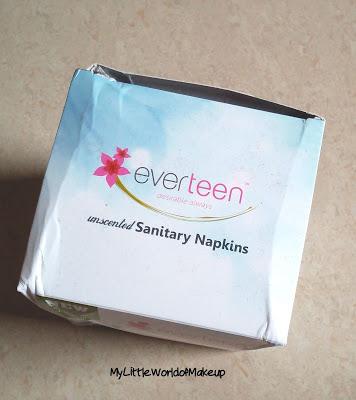 Everteen Natural Cotton Sanitary Napkin Review 

Price
: Rs.249/- for 10 pads. Available at discount
HERE
 and
HERE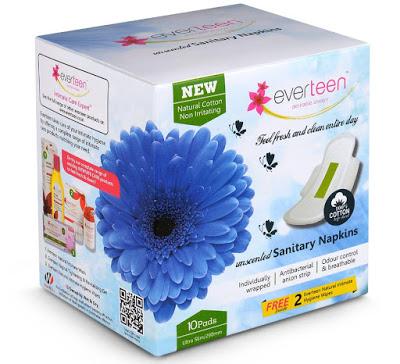 Everteen Natural Cotton Sanitary Napkin Review 
What does the brand say about the product
:
Introducing the all new Everteen natural cotton sanitary napkins which are designed with 8 layers of serious protection to maximize absorbency, comfort & dryness during your menstrual days. Surface of everteen napkins is made of 100% natural cotton which is comfortable and non-irritating unlike other sanitary napkins which are made of rayon.
100% natural cotton surface for instant dry and soft feel

8 layer protection & extra absorbent

With wings for a secure fit and super soft sides for comfort

Unscented ultra-thin sanitary pads for medium to heavy flow (free of artificial scents and fragrances)

Antibacterial negative ion chip helps prevent bacterial multiplication & eliminates odour

Ultrathin and extra absorbent

Breathable layers help keep moisture away

Food grade nontoxic adhesive helps keep pad in place
Packaging:
They all come enclosed in a box with 2 Intimate hygiene wipes which are free as an introductory offer  which I have reviewed HERE All the necessary information is printed on the box. Each pad is individually wrapped with a sticker on it and they are perfect to carry around while traveling.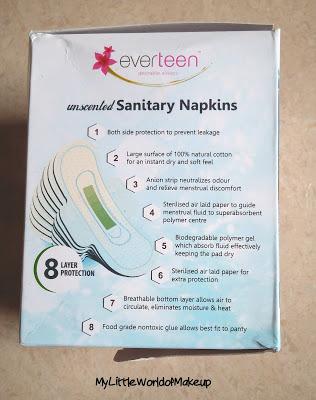 Everteen Natural Cotton Sanitary Napkin Review 

Coming to my experience, as I mentioned before I dread those 5 days of the month because of the stomach cramps, back pain and all other problems associated with it. In order to pamper myself and keep myself stress free I opt for the most expensive, large sized pads in the market. However this  summer I had serious allergy on my thighs and continuing with the same pads I use, it made matters worse. Soon after the summers were over I was sent this product to test out which said made of 100% cotton, I was happy and wished I had got them before.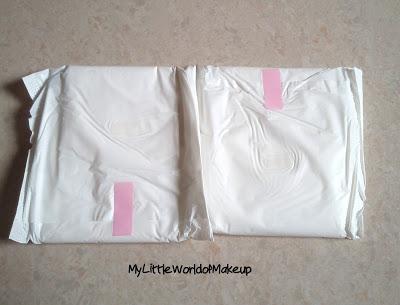 Everteen Natural Cotton Sanitary Napkin Review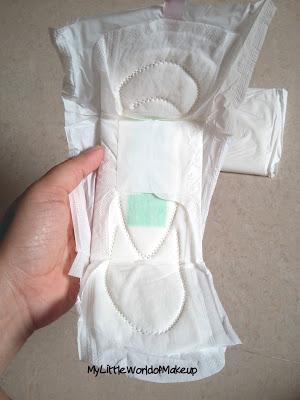 Everteen Natural Cotton Sanitary Napkin Review 
So anyways I started using them and the first thing I noticed was they were cottony soft as promised. The size of the pad is  large almost the size of Whisper choice Ultra XL but I wish they come up with even bigger sizes in future as I am all about them  being a curvy woman  and I opt for those especially during the night time. So they have no artificial perfume/scents to it. There is a green strip in the middle which soaks up everything. I experienced no leaking even after prolonged hours of using it. One thing I would like to mention that despite the size of the pad it is advisable to change it 3 to 4 times a day as it is made of cotton (though it never leaked on me) but also for hygiene sake. Overall I like these sanitary pads and I am happy to use it as I experienced no itching, pain or allergy which I am always suffering from.
The Good:
Cottony soft power
Does not cause discomfort/itching
Did not leak on the sides or cause staining
Absorbent enough
Ideal for every woman irrespective of age
Scent/Perfume free
Individually wrapped
Travel friendly packaging
The not so Good:
Bit on the expensive side
Rating: 4.5/5
Everteen Natural Cotton Sanitary Napkin is a one of its kind sanitary napkin made of 100% cotton which feels soft and does not irritate the skin giving ultimate comfort during that time of the month. One may argue about the price but I feel it is worth it compared to the commercial ones in the market. I highly recommend ☺

You can also check my other reviews from this brand below:

Everteen Intimate Hygiene Wipes

Everteen Natural Intimate Wash Bareever Natural Hair Inhibitor

I hope this post was informative and useful to women. Have you tried the Everteen Natural Cotton Sanitary Napkin before or heard of it?? Do let me know in the comments section.

Until next time.. Take care xoxo

P.S
: PR Sample** 2nd pic used from their website