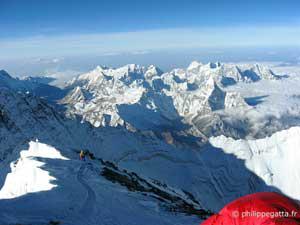 The Everest Lafuma Sky Race takes place in the Khumbu in Nepal, amongst famous 8000 meter peaks;Cho Oyu (8153 m), Lhoste (8501 m), Lhoste Shar (8383 m), Makalu (8475 m) and Mt. Everest (8850 m).
Bruno Poirier, who created the Annapurna Mandala Trail and the Himal Race, also created the Everest Sky Race. The organization of the race is provided by Base Camp Trek & Expeditions.
The trail of this third edition was scouted in 2006 by Yves Détry, Dominique Bergar and Philippe Pias. It crosses several passes and summits including  Nangpal Gotaye (5790 m), Renjo La (5340 m), Gokyo Ri (5350) and Cho La (5420 m). The trail also goes to fantastic places like the Mt. Everest Base Camp (5370 m), Kala Patthar (5540 m), Chhukung La (5130 m), the Gokyo Lakes (4720 m), Gyazumba Tso (5150 m) and the Ama Dablam (4700 m) base camp.
The total distance of the race is 200 km (125 miles) and 11 000 meters (36,090 feet) of climb, in 10 stages and started October 28th 1th 2011 in Lukla.
British ultrarunner Lizzy Hawker will be running in the event.
Everest Lafuma Sky Race website: www.philippegatta.fr/