The ambitious trekker's intend on crossing high passes without the commitment to any technical climbing. Heading towards Everest we cross the Kangma La, Cho La and Renjo La pass with the alpine pastures and lakes of Gokyo. From Gokyo Ri we can see the outstanding views of Mt. Everest, Nuptse, Pumori, Amadablam, Lobuche and other many more mountains.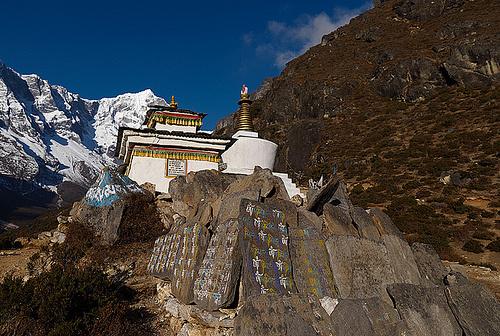 Everest High Pass Trek, Everest trekking, Everest Hard Route, Everest region trekking, Trekking and climbing in Nepal, trekking in everest
There are major three high passes Kongma La Pass 5540 M, Chola Pass 5335 M, Newly explored Pass Renjo La Pass 5400 M, that are located southern west of Everest Kongma La straight above the Dingboce, Chola Pass situated west of Everest Base Camp, Lobuche and eastern north of Gokyo and Renjo Pass South of Gokyo and straight west-north of Namche/ Thame. From Lukla to Dinbgboche, we walk along the normal Trekking rout of Everest Base Camp. For Kongma La Pass, trail divides from Dingboche / Chukkung. We will take over Kongma La pass to Lobuche and others who are unable or unwilling we take them along the normal route to Lobuche. Kongma La is beautiful pass, views from pass is dramatic Mt.Thamserku, Mt Amadablam, Mt. Kongtega numerous mountains and glacial Lakes in front of yours eye with in few kilometers distance.
There are several lakes just below the pass with surrounding meadow. Camping groups Camps beside lakes but for Tea House group must be cross in same day. It will take 8-10 hrs from chukkung to Lobuche. Southern part (Dingboche side) of pass trail is easy ascending but after crossing the pass is hard descending along the moraine for Aprox 100mtrs.If you are trekking in mid winter from November to end of February require couple of hundred meters rope. Other time of the year, no need to put any rope while descending or ascending. Only few peoples heard about this pass, and few trekkers have crossed.Cho La Pass, has become common pass, because during peak season 40 to 50 peoples cross from Gokyo to Everest Base Camp and from base camp to Gokyo. Difficulty is similar as Kongma La Pass and Cho La Pass Trekking, on to the western side of pass, from top (Gokyo Side) is hard ascending for Aprox 100 M. During mid winter hundred to hundred fifty Meter rope is necessary as well as ice-axe and crampon too.Renjo La Pass, from Gokyo to top is easy ascending, it is much easier than the pass of Cho La and Kongma La but descending from pass to about 100M is challenging if snow covering on trail.
Everest High Passes Trek explored half decade ago. During summer local peoples crosses their yaks from Gokyo to Thame and Thame/ Lunden to Gokyo.Views of Everest from Renjo pass are much majestic than other passes , north ridge and south ridge of Mt Everest is clearly display. You can shoot the picture from Renjo Pass Gokyo village with charming blue Lake, huge Glacier, Chola Pass on the Lap of Everest, Mt Makalu at once shot including numerous other mountains.After crossing the pass, we encounter with the amazing remote valley. We view on to the west more Mountains that mountains do not display from Gokyo and Everest Base Camp. After descending 100 to 150 M difficult portion, we descend along wide yak pasture to Lunden. If you are fit to walk up and down, ca skillfully move yours leg up and down, this trekking trip will be memorable journey in yours lifetime. You decide, we will successfully take you over those passes with highly taking care with our experienced Sherpa Staff.
Everest 3 Col Trek Itinerary:
Day 01 : Arrive in Kathmandu, Transfer to hotel.
Day 02 : Kathmandu Sightseeing, Transfer to hotel.
Day 03: Fly to Lukla (2700 m) from Kathmandu and trek to Phakding (2600m), 4 hrs and o/n in tents
Day 04: Phakding to Namche (3440m) 6 hrs and o/n in tents
Day 05: Namche rest day (Day hike to Khumjung village / Thame Monestry) 3 hrs o/n in tents
Day 06: Namche trek to Thangboche (3860m), 5hrs o/n in tents
Day 07: Thangboche trek to Dingboche (4300m), 5 hrs o/n in tents
Day 08: Dingboche – Rest day (Day hike to Amadablam BC) 5 hrs o/n in tents
Day 09: Dingboche trek to Chhukung, 3 hrs o/n in tents
Day 10: Chhukung trek to Khangmala BC (5000m), 4 hrs o/n in tents
Day 11: Khangmala BC- Khangmala pass (5535)-Lobuche (4930m), 6hrs o/n in tents
Day 12: Lobuche trek to Everest base camp (5400m) and to Gorekshep (5170m), 8-9 hrs o/n in tents
Day 13: Gorekshep (early morning trek to Kalapattar, 5545m) 3 hrs and trek to Dzongla, 6 hrs o/n in tents
Day 14: Dzongal -chola pass (5420m) trek to Thaknag, 6 hrs o/n in tents
Day 15: Thaknag trek to Gokyo, 3 hrs o/n in tents
Day 16: Rest day at Gokyo (Hike to Gokyo Ri), 4 hrs o/n in tents
Day 17: Gokyo-renjo pass (5338m) trek Arye, 7hrs o/n in tents
Day 18: Arye trek to Glacier, 3 hrs o/n in tents
Day 19: Glacier trek to Thame, 6hrs o/n in tents
Day 20: Thame trek to Monzo, 6 hrs o/n in tents
Day 21: Monzo trek to Lukla, 5 hrs o/n in tents
Day 22: Lukla fly to Kathmandu and trekking ends
Day 23 : Free Day in Kathmandu for shopping.
Day 24 : Final departure for your own destination.
Note : The quotation will be provide on request, regarding Number of people interest to do this trek and has to be Camping organize full staff support service..
The above Package Include.
Ground transfers: From / to Starting & Ending Point Of The Trek. Camping equipments two men tent, Sleeping bag, Mattress, Dining tent with table and chairs and Toilet tent. Kitchen Equipment & trek food include all meals, Tea & coffee. Trek Staff: Sirdar, Sherpa Guide, Cook, Porters. Staff insurance covered up to 19000ft..
Cost do not include.
Visa, insurance & single supplement. Items of personal nature and equipment alcohol drinks main meal in Kathmandu, laundry and tips. Expenses incurred as a result illness of or any other unforeseen events and Emergency evacuation fees. Loss incurred by re-routing, inclement weather, floods, famine, political disruptions, strike, riots and other disturbances.
For more information:
Nepal Visitors Network
P.O. Box :19760, Thamel, Kathmandu, Nepal.
Tel :+977-1-4263133, Fax:+977-1-4216454