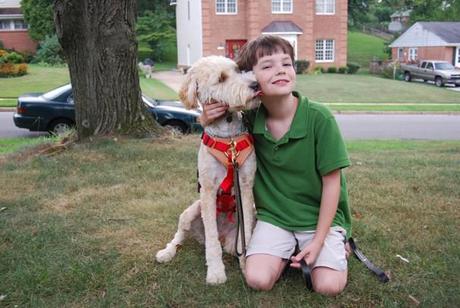 It seemed impossibly cute, but mostly impossible, when Evan Moss, 7, wrote and illustrated a book last year called My Seizure Dog. He wanted to raise $13,000 to buy a service dog to help with his severe epilepsy, and the book depicted all the great things he would do with such a dog. One example: Eat pizza.
Then, thanks to a remarkable outpouring of public support, he raised $45,000, enough to buy service dogs for himself and seven other people. Last month, Evan and his family traveled to Xenia, Ohio, to be trained in how to handle Mindy, their new, finely trained dog, who can detect seizures in advance and notify Evan and his family.
The dog uses "machine-gun licking," as Evan calls it, to alert him that a seizure is imminent.
Now the Mosses are back in the Alexandria area of Fairfax County with Mindy (and a second dog, Dinky, rescued earlier by Evan's sister Aria). And the amazing journey of Evan, who has gone through more severe seizure episodes and emergency room visits than you can imagine, now enters a new phase. He is 8.
Evan was born with tuberous sclerosis complex, which caused him to have 300 to 400 short seizures a month as a small child. Brain surgery at age 4 stopped the short seizures, but he began to have longer and more serious seizures.
His parents immersed themselves not only in the literature of epilepsy, but the culture. Rob Moss created a remarkable free Web site called Seizure Tracker, which helps parents monitor and share data. He has since added a mobile app. Lisa Moss joined the board of the Epilepsy Foundation and is working full time for the Tuberous Sclerosis Alliance.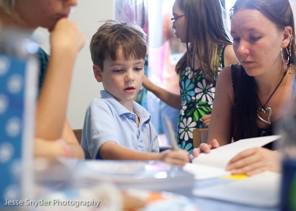 Evan Moss, then 7, at the book signing for My Seizure Dog in July 2011. (Jesse Snyder Photography)
Rob and Lisa also learned about "seizure dogs," specially trained not only to alert the epileptic, particularly if he or she is sleeping, but to alert the parents if the person needs help. The dogs can pick up a scent that provides warning that a seizure is coming as much as five hours before a grand mal seizure (20 minutes before a small seizure). They also can help navigate crowds and provide soothing support by placing their head in one's lap. You automatically pet a dog whose head is in your lap, right? Distracting and soothing.
Evan had the idea to write the book last year. He drew pictures of his imagined "seizure dog" sleeping with him and going on airplanes with him, and dictated the text to his mother. She self-published the book, got it on Amazon.com, and arranged for a book signing in July 2011 at Grounded Coffee, a family hangout on Telegraph Road.
Shortly before the book signing, a story about Evan appeared on this blog, and then in the printed edition of The Washington Post. And Post readers responded. The book signing was mobbed, with more than 600 people lined up to buy books. Folks came from as far away as Pennsylvania and New Jersey, some with service dogs of their own.
More than 400 copies of the book quickly sold for $10 apiece. Washington Post readers sent numerous e-mails offering to help, the book shot to No. 1 on Amazon's Bestseller List of Children's Health books, and, within a week, Evan had raised $20,000.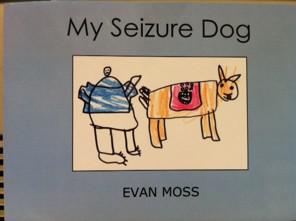 The best-selling cover of My Seizure Dog.  (Tom Jackman – The Washington Post)
People magazine flew Evan and his family to Ohio, to 4 Paws for Ability, which trains and raises the service dogs, and vets the families who receive one. The dogs cost $22,000 to train, and 4 Paws asks recipients to pay $13,000. Families launch fundraising drives that can last years, tracked by 4 Paws.
Last month, the Mosses returned to 4 Paws to pick up Mindy. After two days, they were instructed to take the dog back to their hotel, and by the fifth day, they were trying to deal with the distractions and bustle of a large shopping mall. Graduation was on Day 10.
There were eight other families being trained at the same time, Lisa Moss said, with recipients ranging in age from 5 to 21. Evan remembered them all and narrated his photo show of their dogs on his camera.
Mindy is a goldendoodle, part golden retriever and part standard poodle. When Evan met her, she had pink bows in her hair. This was something of an outrage.
"I can't believe she has bows in her hair," Evan recalled of their first moment together. "I'm a boy!"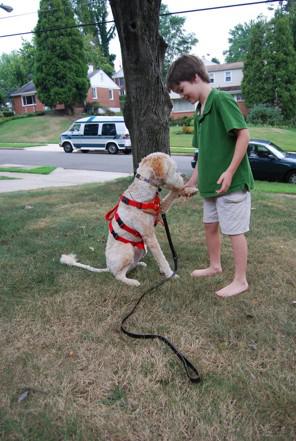 Evan Moss practices shaking hands with Mindy.  (Tom Jackman – The Washington Post)
He will be a rising third-grader at Springfield Estates Elementary School this fall.
But she's a girl, I said.
"Still. She's my dog."
How long did it take you to learn how to handle Mindy?
"No time at all," Evan said. "I was just relaxing."
His father handled the bulk of the training, with the focus for Evan more on bonding than the mechanics of obedience.
Mindy is just 11 months old and was trained for about five months before meeting Evan. She is friendly and calm, but when her service vest is snapped on, she becomes more upright and serious. She's ready.
Evan is charming, wired, chatty, instructive, irresistible. He mentions his disease casually, like he might mention an old T-shirt. He remains devoted to Pokemon and can expound at length on the plot lines of Ninjago.
What do you like about Mindy?
"Duh. She alerts my seizures."
Totally duh.
"I like hanging out with Mindy," Evan continued. "In my room. She likes to be under the covers with me."
I wondered if Mindy was like the dog he imagined in his book.
"Sorta," Evan said. "She doesn't eat pizza with me."
Why?
"It would be too much of a distraction and it would be unhealthy."
But Mindy is like the dog in the book because "she helps me when I have a seizure. She went to the hospital with me," when he injured his finger playing basketball. "She got up on the hospital bed with me."
And then Evan whispered in my ear what Mindy does secretly with him.
"The dog plays the [Nintendo] DS," Evan confided. "Pokemon."
Tags: children's books, epilepsy, evan moss, service dog