Greenpeace UK commissioned the London based Man+Hatchet creative agency to produce a video to sensitise people about CO2 emissions.The video starts at the European Parliament with a politician talking about the risks of allowing high CO2 emissions and it borrows its style from "Street Fighter" a popular 90's video game.At one point the parliament cracks open and the game starts.Martin the politician will challenge the CO2 Emissions monster in a 8 bit fight trying to beat it for a greener Europe.
The campaign aims to encourage people to vote in the coming weeks to reduce pollution from new cars by:
-Supporting car efficiency targets of at least 95g CO2/km by 2020 without any loopholes like super-credits or time delays
 Supporting challenging 2025 car efficiency targets that ensure carmakers mass produce the ultra-low carbon vehicles we need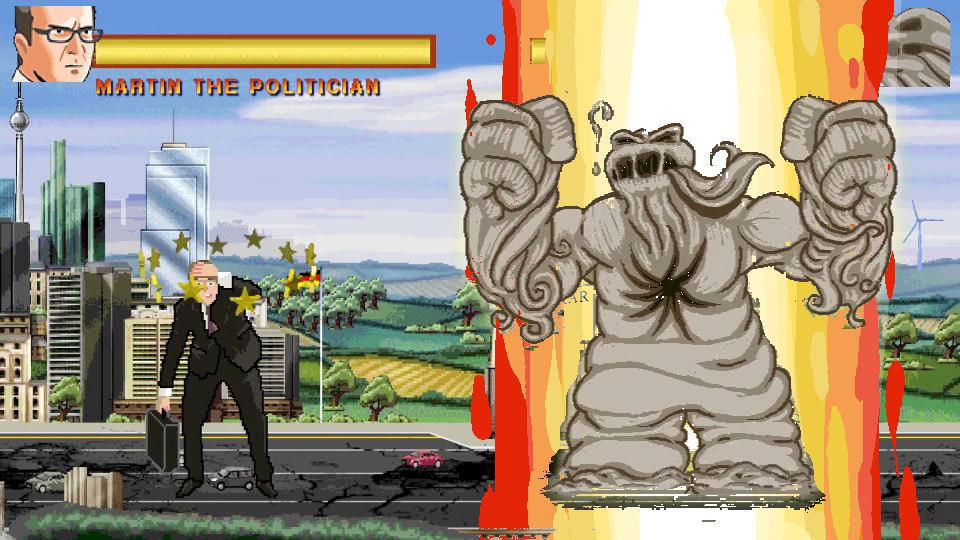 Will Tribble, the director of the video explains:
This project has been a dream come true for me. It has so many things I love: video games, cartoon monsters, explosions, super intense anime fight shots, Rob Hill screaming, bulging man nipples… And it's for an important cause, one that's easily ignored. I hope everyone that sees it is blown away by awesomeness and wants to punch carbon emissions in the face.

I hope everyone else that worked on it – from Chris the sound designer who hacked into a Game Boy to make the music, to the team of amazing artists and animators who put everything they had into making it – loves it as much as I do.
 CREDITS
Client: Greenpeace UK
Advert Title: Europe VS CO2
Country:UK
Format: Video
Published: 2 April 2013
Advertising Agency: Man+Hatchet
Producer: Simon Sanderson
Director:Will Tribble
Creative Director: Henry Cowling
Creative Team:Rob Wakefield,Will Tribble
Animators:Chris Ollis, Once Were Farmers
Character Design: Rob Cheetham, Chris Ollis
Sound Design and Music: Blurred Edge (Chris Green)
Seeding: Never Say Media
You can now activate your politician to beat car CO2 emissions by visiting the dedicated microsite HERE