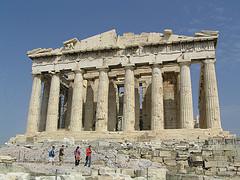 In a recent post, guest blogger Anthony Garcia suggested that graduate students should get out from behind the books to do some hands on research and enjoy a healthier learning experience. This is true for all stages of education and is a good reason to consider planning an educational holiday for your family.  When sitting in a classroom, it's easy to memorize dates, artist's names, events and the lineage of kings, but there is nothing to compare with actually seeing a historical location or work of art. Those living in or visiting Europe have the unique advantage in being surrounded by thousands of years of history.
A visit to ancient Greece, the cradle of Western thought, is awe inspiring for all ages. The Parthenon, which was completed in 438 BC, is as magnificent today in our age of technology as it would have been for travelers throughout history. However some of its surviving marble sculptures were sold to the British Museum in the early 1800s, a place that provides another wonderful educational experience.
Housing over seven million objects from all continents and eras of human history, the British Museum in London, England tracks the story of humanity from its foggiest beginnings to the present day. With items on display such as the Rosetta Stone and art from the greatest masters in history, a visit this museum can be duplicated nowhere else on earth. However, you will find amazing art museums in every major city in Europe including the Musée du Louvre in Paris, France; Museo del Prado in Madrid, Spain; and Galleria dell'Accademia in Florence, Italy.
Visiting the actual sites of many important events makes history come alive. Walking through the ruins of the Forum or Colosseum in Rome make the events that took place there seem more real and relevant, even all these centuries later. Seeing the Magna Carta Memorial in Runnymede Meadow, Egham will solidify the significance of its signing more than reading about it a hundred times in a book. A visit to the site of the Berlin Wall or the Battle of Waterloo in Belgium will create real educational experiences that are not likely to be forgotten.
Another way to bring history alive is to visit the dead. Not only are the catacombs of Paris and Rome amazing, albeit creepy locations for learning, but Europe is full of individual graves of the famous and infamous. Westminster Abbey in London, England contains the remains of dozens of royals and monarchs, as well as even more famous history makers such as Geoffrey Chaucer, Charles Dickens, Sir Isaac Newton, Rudyard Kipling, and Alfred Tennyson. Les Invalides in Paris, France is home to the tomb of Napoleon and other military leaders of France. In Rome, you can find the alleged tombs of saints and apostles such as St. Peter. Visiting the dead makes us realize that they were real people and not merely characters in a story we read. They lived, loved, ate, drank, became sick and died just like us, except in between all of that they created history.
One word of caution however, when traveling in Europe with children, you need take some extra steps to ensure their health and safety. If your child is on any medication, ensure that you bring an adequate supply with you. You should also bring along a first aid kit to take care of minor cuts and scrapes, as items such as antibiotic creams are only available by prescription in some countries. In the event that you and your children should ever get separated, make sure that your child knows enough of the local language to ask for help, understands how to use European pay phones, has a few Euros and a photocopy of their passport, knows the name and phone number of your hotel and has contact information for relatives at home. With a little planning and preparation you can ensure that your family has a healthy educational holiday in Europe.
Author: Nisha Sharma
Nisha Sharma represents a site called KissimmeHotels.co.uk. She loves to write, especially about family, travel and going on holiday. She invites you to visit these sites for travel information Comfort Suites Maingate Hoteland Goldstar Hotel and Suites
Photo by Rol1000