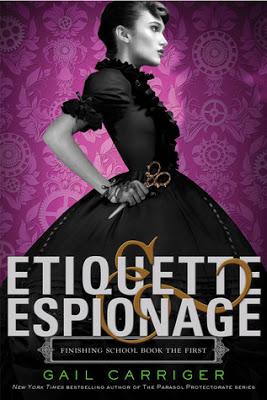 It's one thing to learn to curtsy properly. It's quite another to learn to curtsy and throw a knife at the same time. Welcome to Finishing School.
Fourteen-year-old Sophronia is a great trial to her poor mother. Sophronia is more interested in dismantling clocks and climbing trees than proper manners–and the family can only hope that company never sees her atrocious curtsy. Mrs. Temminnick is desperate for her daughter to become a proper lady. So she enrolls Sophronia in Mademoiselle Geraldine's Finishing Academy for Young Ladies of Quality.
But Sophronia soon realizes the school is not quite what her mother might have hoped. At Mademoiselle Geraldine's, young ladies learn to finish…everything. Certainly, they learn the fine arts of dance, dress, and etiquette, but the also learn to deal out death, diversion, and espionage–in the politest possible ways, of course. Sophronia and her friends are in for a rousing first year's education.
I was a bit late to the party when it came to Gail Carriger's fabulous Parasol Protectorate books set in an alternative steampunk Victorian London where the existence of ghosts, vampires and werewolves is accepted as par for the course but was determined to be ON THE CASE when it came to Gail's new Finishing School series, which kicked off earlier this month with Etiquette and Espionage set in the rather fabulous Mademoiselle Geraldine's Finishing Academy for Young Ladies of Quality.
In contrast to the Parasol Protectorate novels which could be slightly raunchy at times, the Finishing School series is Young Adult by nature so there is nary a snog in sight although it still contrives to be replete with dashing young man in the persons of Captain Niall, whom fans of the Parasol novels will already be familiar with, and the rather lovely sounding 'Pistons', an exclusive group for gothic sorts at Mademoiselle Geraldine's twin boys school for evil geniuses, where they wander about in becoming steampunk apparel with kohl around their eyes and a rather Byronic mien going on.
Sophronia, the heroine of the series, is fairly similar to Alexia, the heroine of the Parasol Protectorate books in that she's outspoken, a little clumsy and highly resourceful as well as attractive in an unconventional but nonetheless alluring way. I thought she was rather ace and enjoyed having her as my guide to the amazingly detailed and always fun world of Mademoiselle Geraldine's, which unusually for a finishing school is located on a massive floating dirigible that spends most of its time hovering over Dartmoor when it's not hiding from incipient attack from Flywaymen intent on getting their grubby mitts on a mysterious invention prototype. Yes, you read that right.
I don't want to give anything away so I'm going to stop there but suffice it to say that if you liked the Parasol Protectorate series or are into steampunk or alternative history or have a thing for boarding school tales with a supernatural flair and a lot of cogs, steam, whirring and clanging in between the big flouncy dresses, delicious comestibles and wonderfully arcane lessons in passing notes at balls and murdering people at the theater then you're going to LOVE this. It's witty, funny, a bit thrilling, tremendously silly and immensely good fun. Brilliant.
ps. Curtsies and Conspiracies, the second book in the series is out in November 2013 so thankfully I don't have to wait TOO long for the next instalment!