"Blessed are the forgetful"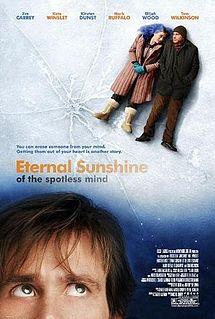 Directed by Michael GondryCast: Jim Carey, Kirsten Dunst and Kate Winslet

Plot
The plot is, at its most basic level, a love story. It looks at how a couples struggle with their past experiences with one another can bring them closer together. However, the representation of his struggle is what really sets this film apart and makes it so poignant.
The film starts out with a troubled, socially awkward male named Joel. During his early morning commute, he decides to take a spontaneous trip to a place known as Montauk. He does not remember why he decides to take this train but only that he does and that it felt like something he needed to do. Upon his journey, Joel meets a sprightly young woman named Clementine. A zippy open minded young lady who confides in Joel's calm and controlled manor.
As they begin to share thoughts and feelings, the two create a bond of which seems unbreakable. Unfortunately after a heart wrenching visit to the library where his lover works, Joel is surprised when she does not acknowledge him. It later comes to fruition that she has been able to get her mind wiped and is currently forgetting all about their relationship.In his fury Joel decides that it would be best to wipe her from his memory also.
The film follows his slow recovery as he aims to wipe his memory by retracing his past and disassociating himself from it. The film dabbles with the idea that some bad memories can be life affirming and strengthen relationships as well as weaken them.
We see Joel's memory slowly fading from view as he frantically tries to regain it; the antagonistic elements create for an exciting roller-coaster of emotion and adventure. Eternal Sunshine represents the degradation of a human being due to emotional stress whilst also representing that in a way that while it may seem preposterous to watch is somewhat familiar and exciting.

Acting
Jim Carey in a role that doesn't involve him to act like a crazy eccentric characeteur. Yes that's right his first real serious role, and I have to say he does a really good job. Seeing him being an actor was much more compelling. I will admit that he does do a very good job of pulling faces and doing a Basil Faulty impression but I think he makes a better actor. he creates a great character who is not only afraid of the unknown but also open to experience and willing to try out new things. His characters development is really enjoyable to watch and I would say he is actually a real acting talent.While Kate Winslet played an endearing, Quirky and yet rather broken character well, I really enjoyed the acting talent of Kirsten Dunst. She has always been an actress I highly regard ever since I saw as the abused daughter in Spider-man, but I think that she pulls off the seemingly innocent receptionist really well.

Good Points
If I wasn't trying to review a whole film product I would have just done a post on the intricacy and truly inspirational plot set out in this film. This is one of most involving adventures I have ever been on in a film since the social network. It pulls you in and doesn't let go, you want to find out were the next scene will take you and see what the result of all this madness will be.
The love hate relationships revolving around the two main characters helps emphasize the beauty of what they have. I love the idea that two polar opposite can come together to create a connection which can overcome any bad memory no matter how destructive it may be. Their relationship is also one of the biggest elements of the film that keeps you hanging onto the end.

Points for improvement
I really don't think that this film is worthy of any kind of criticism unless its positive, although in the interest of keeping these reviews as consistent as possible, I do have one minor gripe. I feel that they could have had slightly more focus on the workings and science of the mind wiping process as I felt that mostly due to budget and duration of the film this element was somewhat overlooked. Trust me though this small addition would not have improved the narrative or chemistry of the film in any way!

Summary
A wild emotional roller coaster presented beautifully. This film offers chemistry and emotional attachments between character whilst seamlessly blending in an element of science fiction to make it more interesting. I love it!
Th

e

Preachers Popcorn Piece

:
 Leaving likes and sharing content motivates me to write more so If you could that would be great! I  would love to hear your take on the film!Why not leave a comment below? Thanks for reading, ThePopCornPreacher.