"Yet who knows whether you have come to the Kingdom for such a times as this"?  Esther  4:14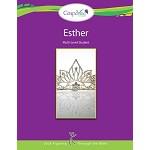 Are you looking for an eye-catching, interactive way to study the Bible with your family?
Grapevine Bible Studies employ a unique method of 'stick figuring' to draw the student in and help them remember Biblical truths.  Plus - it's easy on the teacher/parent.  A degree in art or theology is not necessary!
I again had the privilege to review another great multi-level Bible Study product from Grapevine Studies that my family really enjoyed, Esther
 .
"Grapevine Studies teaches the Bible as if it were a puzzle, doing the frame first. Once the framework is in place (the timeline) then individual pieces (Bible passages, characters, and events) are much easier to place and understand in the context of the "whole puzzle" (the whole counsel of the Word of God).
This study will begin by teaching the timeline of the book of Esther. Students study each lesson by reading passages from the Bible and drawing (or taking notes on) each section of Scripture, using what we at Grapevine Studies call stick figuring. Stick figuring is using stick figures, symbols, colors, charts, and words to illustrate each Bible passage. This method allows students to interact with the Bible passage and be as creative as they desire. At the end of each lesson a set of review questions is given to ensure that students have grasped the essentials of the passage (the who, what, where, when, why, and how). Application of the lesson is for the teacher to determine based upon prayer, the class, the needs of individual students, and what that teacher feels the Lord has led him to emphasize. Each lesson ends with a Bible memory verse that is related to the lesson and the timeline."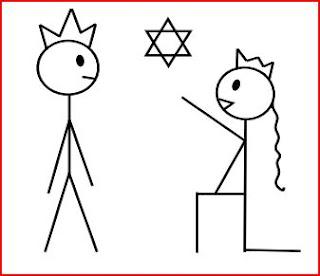 What I love about these studies is that the lesson plans are all laid out for you.  All you need is a Bible, white board and markers, copies from the student guide and colored pencils.  You can do this study weekly or daily - either 9 weekly or 32 daily lessons.  How you divide up the lessons is completely up to each family.

"Travel back in time with your children and teens as they study the book of Esther. Bible students will begin their in the ancient Persian Empire, as King Ahasuersus banishes Queen Vashti and begins a search for a new queen. Watch as a beautiful young Jewish woman named Esther becomes the new queen. Learn how God used the courage of Esther to save her people from an evil plot to kill them all. Discover how God used the creativity of Mordecai and Queen Esther to defend the Jews from Haman's destruction. Finally, teach your students how the celebration of Purim became a yearly holiday!"
Step by step, Esther covers:
Queen Vashti
New Queen
Haman
For Such a time
The Banquet
The Defnse
Purim
View Table of Contents and a sample lesson for yourself and their 
STATEMENT OF FAITH.
And, we especially liked the question 
"What do we learn about God from these verses?" 
posed at the end of each section.   Because this book of the Bible doesn't specifically mention God, it made us all think a little harder about His character in the midst of Esther's struggle.
As a special summertime promotion, order from Grapevine studies until July 15 and receive 20% your ENTIRE order using coupon code:  SummerBlog12
Disclaimer:
I received a copy of Esther Bible Study free of charge in exchange for an honest review.This post written and property of Homeschool Circus and can be found at: www.upatdawnreadytowork.com. If you are reading this from a source other than www.upatdawnreadytowork.com (www.upatdawnreadytowork.blogspot.com) you are reading a scraped copy!