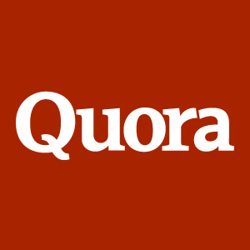 If you do business in an industry where knowledge is seen as a demonstration of your ability to deliver results then sit tight. Spend five minutes reading the rest of this article and go and sign up to Quora.
Quora is a Question and Answer platform similar to that of Yahoo Answers but in a less 'How big will my cat grow?' and more of 'How do I better market my small business?' It has been available to the public since June 2010 and after recently raising another $50 million in funding is now valued at more than $400 million.
Whilst Quora holds it's data pretty tight, AppData tells us that via Facebook Connect, Quora has 20,000 active daily users and 180,000 active monthly users. Of course, Quora users logging in via Facebook Connect will only make up a percentage of total users. Of these users Ignite Social Media has ascertained that  57% of Quora users are Male and yes, 43% are Female. The 25-44 age group make up 59% of Quora users, whilst 44% have at least a Bachelor or Graduate Degree.
So there's the numbers but if you're still not following me let me explain a little more why you should be using Quora.
The information sharing platform allows you to answer people's questions and these answers in-turn help other people. Warm and fuzzy feeling right? But the key here is that your answers demonstrate that you know what you're talking about, much more than the copy on your website. Your website does not provide the context of real-life situations, it can not accurately reflect how you deal with common problems and interact with others.
Quora helps to build your authority within your industry.
 
5 Tips for using Quora to establish Authority
- Create and optimise your profile. Link it to your LinkedIn and Twitter accounts. Use your about section to implement keywords for search.
- Follow topics that are relevant to your business and that you can confidently answer.
- Provide concise and polite answers without self-promoting too much. Casually refer to a blog post you've written or if you're not blogging then refer to your website but only if it is entirely relevant.
- Provide a link to your Quora page from your profile on your website. Visitors to your website will have very different objectives, some just want to see a good website before making contact and others want to research as much as they can. This is what a link to your Quora profile will provide.
-  Aim to build up your credits. This can be done by answering questions that people ask of you and having people vote-up your answers. The more credits, the higher your answers are placed and the more attention your profile receives. But don't let that confuse you, keep providing quality answers and the credits will come.
Bing launches Quora sidebar
Bing has been integrating Facebook and now Quora into it's search functionality. It's only early days but basically when a Bing user searches for an answer the search engine will draw upon Quora content, which with it's own voting system will ensure the user gets quality information in return. This might very well be your content. So with the expansion of this functionality it is very possible that through engaging with the Quora community and providing quality answers to which are being voted-up, you may very well start to earn valuable search page real estate without having to pay for the privilege.
 
Quora launches Android App
Quora has just recently added to its mobile strategy by introducing an Android app after having an iPhone app for almost a year now. It is a significant move by the platform to mobilise its experience considering 25% of its traffic was already coming from its iPhone app and the mobile version of the popular site.
 
Embedding Quora Threads
In another great move by Quora, they're now allowing webmasters the opportunity to embed content streams into webpages. So potentially, people will now take your quality answers and embed them into their own website, spreading your profile/brand even further across the web and building on your authority.
Read Quote of Quentin Aisbett's answer to Social Media Marketing: Social Media Audit – a necessity for every business or a luxury? on Quora
Quora does not need to be rocket science. We all have our specific areas of knowledge and Quora is simply a vehicle to untap that knowledge and use it to build authority within your industry. Questions of your chosen topics get dropped in your inbox and you answer them if you have the time. The basic premise is to keep providing thoughtful, concise and quality answers that the Quora community appreciates. This will be the key as to whether you can successfully use Quora to build your authority and maybe even drive business.
Quentin Aisbett
Visit My Website
/
View My Other Posts
Quentin Aisbett is the strategist at OnQ Marketing. He loves social media, SEO and mobile. Blogging all the time,
tweeting
even more so and found rambling on Google Plus at
+Quentin Aisbett
. Be a little old school and
email him.