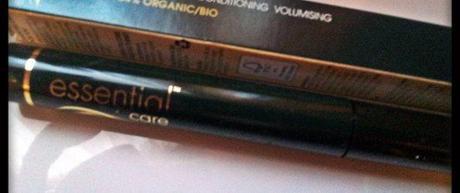 A couple of weeks ago I purchased Essential Care Mascara. I was actually in the middle of purchasing their concealer when I came across their mineral mascara. I was really in need of a new one and this appeared really good, so it just made sense to buy them together, at the same time, on the same site.
What was the main marketing points that made me buy this mineral mascara?
100% Natural (free from synthetic chemicals including solvents, fibres and 

plasticisers

)

88% Organic

Certified to 

Soil Association

 Standards
Deeply conditioned with aloe vera, calendula and 

sea buckthorn

 fruit plant extracts
Free from mercury and other 

toxic metals

Organic herbs and plant waxes included to condition and care for lashes
Until now, I have not had a very good relationship with natural mascaras. I've tried a few and most tend to flake and make me look panda eyed. Not a good look! Otherwise, they don't tend to hold up to the rain. Obviously, natural versions aren't waterproof and beeswax can only do so much. If you want a waterproof mascara, don't expect it from a natural source. If you find out otherwise, for goodness sake, email me!!!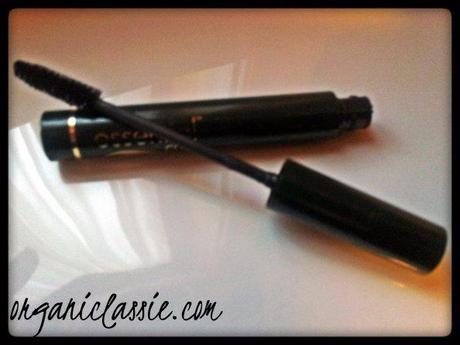 Practical full brush, easy to handle, coat and separate lashes
So I have tested this for a good two weeks and here is what I think:
No flaking

No smudges under the eyes

No clumping

It has (so far) held up to rain and snow (seriously)

Fast drying – yes it feels wet at first but this lasts only as long as it takes to sort your other 

eyelashes

 out

Smells gorgeous! (Unless you're like my Husband, who thought it smelled of port…)

The brush is very practical, I wouldn't say it gives full volume but it definitely gives definition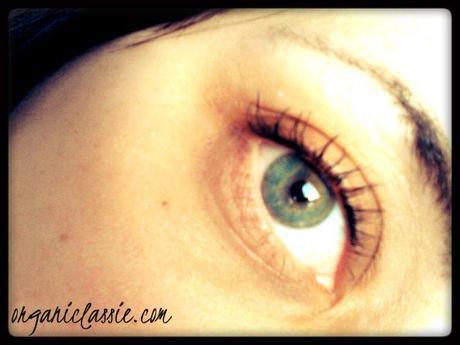 Me and my newly conditioned eyelashes after one coat.
(Please excuse my lack of eyebrow, they're both slowly growing back following a thyroid blip)
Conclusion of review:
I honestly can not fault this product in any given way. As I was purchasing it, I was sure that there would be something that I would find fault with, as natural mascaras just haven't packed a punch for me so far. However, it doesn't smudge or cause my eyes to water. Like I said, it doesn't give full volume like many commercial mascaras might, but it does define your eyelashes and is fantastic for daily wear.  Years ago I would have felt differently as I was all about the black volume+++  back then. Now I just want my eyelashes to look a bit more perky 

Essential Care Mineral Mascara

 is available in brown and black and is highly recommended by '

The Green Parent

 Awards 2011′. RRP £17.50.
I would say that the RRP is slightly outwith my daily essentials beauty budget. However, this is common for all natural beauty mascaras. I feel that this product works well and does what it promises on the packaging. This makes it an item that I would definitely repurchase.
Have you ever tried Essential Care mascara? Have you found your mineral mascara holy grail yet? oxo