Just found this simple things: Jelly, at the Jelly Shot Test Kitchen.
There seems to be a wave going on at the moment, for I constantly see jelly ideas in all shapes, colors and tastes. And this one, of course, hits it with coffee.
Espresso Martini Jelly Shot
Implements – pyramid flexible silicon mold *Prepare a flexible silicon pyramid mold (
we like this one from Kerekes
) by spraying lightly with PAM cooking spray, or wiping each mold cavity with a little vegetable oil.  Follow by wiping each mold cavity with a clean paper towel.  This method will leave the slightest reside which will aid in un-molding the gelatin without affecting the taste or appearance of your gelatin.Place the mold on a stable, movable flat surface, such as a cookie sheet or cooling rack (make sure the pan or rack fits into your refrigerator).Prepare jelly shot mixture.Ingredients:
1 cup brewed dark roast coffee or espresso
2 1/2  envelopes Knox gelatin (or 3 if jelly shots will be sitting out for an extended period)
1/3 cup espresso flavored vodka (we used Van Gogh Double Espresso, which was quite nice, but feel free to use your favorite . . .)
1/3 cup vanilla flavored vodka
1/3 cup Kahlua coffee flavored liqueur
1 tsp agave nectar or simple syrup (if desired)
1 – 2 tbsp Baileys Irish Crème liqueur (if desired)
Pour coffee/espresso into small saucepan. Sprinkle with gelatin and allow to soak for a minute or two.  Heat over very low heat, stirring constantly, until gelatin is dissolved (about 5 minutes).  Remove from heat, and add the vodkas and Kahlua, stirring well to combine. Taste and add agave nectar/simple syrup if desired.If making dual-level jelly shots, divide the jelly shot mixture equally into two bowls. Add 1-2 tbsp Baileys to one of the bowls. Spoon a teaspoon of the Baileys mixture into 4 of the mold cavities, then spoon a teaspoon of the espresso jelly shot mixture into 4 additional cavities. Refrigerate until set, about 3 minutes, inverting the mold on one end to create an angled layer.When set, remove from refrigerator and fill with the alternate jelly shot mixture. You will have 7 mold cavities remaining, fill these with the remaining espresso and the Bailey's mixtures.Refrigerate until fully set, several hours or overnight.  To serve, unmold.Makes 15 jelly shots.
*these can of course be set in a 8″x4″ loaf pan and cut into squares for serving.  You may wish to reduce the gelatin to 2 envelopes if setting in a pan – the extra gelatin is vital for smooth unmolding, but not really necessary otherwise.  .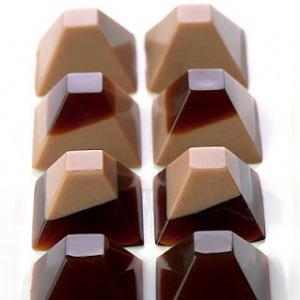 Espresso Martini Jelly Shots