Hey Eric & Sookie Lovers!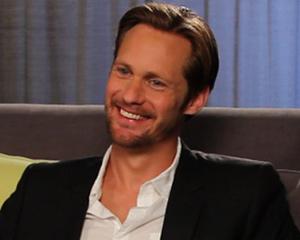 Image credit: TV Line.com
Will they or won't they? Or perhaps more importantly, when will they? That's the question that Eric & Sookie Lovers want (or more accurately), need to know about what happens between Eric Northman and Sookie Stackhouse.
But unfortunately, for the bookies out there…Skarsgard says just because we've read Book 4, Dead To The World (DTTW), doesn't mean we know how Season 4 will play out. The Swedish heartthrob sat down with TVLine's Michael Ausiello at TV Line's Comic-Con interview suite to discuss the Eric-Sookie dynamic, the experience of interacting with rabid fans, and the importance of maintaining his character's integrity in Season 4 — despite a pesky spell that's wreaked havoc on his personality.
Click

here

to watch the interview!
Thoughts? Share them below!
Or, do you just want to re-watch that over and over again? I know I do!

Love me some scruffy Alex! YUM!