Great news, Eric & Sookie Lovers!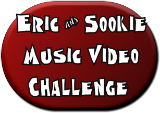 We'd like to announce…we have an
official
winner in our first-ever
Eric & Sookie Music Video Challenge
!
First of all…we'd like to thank both video makers for creating and submitting their videos in to us! We hope you enter challenges in the future, because judging from how successful this one was…we're sure there will be more in the not-too-distant future!

Thanks to our visitors for watching and casting your votes! You are the real reason why this challenge was so successful! We're glad you came by and voted!
If you voted for this one below…

…congratulations! Your video WON!
Andrea (the creator), has been contacted and was pleasantly surprised by the results!

She couldn't believe it and wants to thank all of
you
for liking her video enough to vote for it! She's
extremely
happy and excited to win the autographed Polaris 25 program book and poster by Charlaine Harris!
We will now add this video to our sidebar for you to watch whenever you visit!
Thanks again for making this a successful event!