Eric (Alexander Skarsgard) and Sookie (Anna Paquin) are featured in the September 23rd issue of Entertainment Weekly!
Check out the scans below!
Please click image for larger view.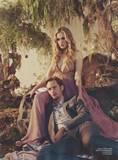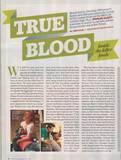 Special thanks to Northman.net for the scans!
Eric and Sookie look AMAZING in the new photo! And did you notice in the bottom right-hand corner? This was taken back in June and we're only seeing these now for the first time! WTF? Why haven't they released this goody to us before now?
What do you think? Share  your thoughts below!