The Guardian UK is marking the 100th anniversary of Bram Stoker's death by chosing their Top 10 Vampires in fiction and popular culture. As we might expect our favorite viking is included on this rather prestigious list, headed by the dark lord, Count Dracula, himself. (Well you can't really argue with the great granddaddy of all blood-suckers can you?)
Eric was at number 6:
One of the endlessly compelling things about vampires is the idea of living, if not forever, for longer than any human being ever could. Eric Northman embodies this, having lived for more than a thousand years by the time he is introduced in Dead Until Dark. Born a Viking in 11th century northern Europe, he is incredibly handsome, arrogant, flirtatious, dangerous, untrustworthy and has quite literally seen it all before. Eric rules over area five of Louisiana (in Harris's books, the vampire society in the US is run as a collection of feudal states) a position that brings the series heroine Sookie Stackhouse to his attention time and again throughout the series.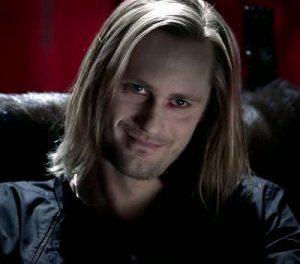 The entire list gets a big thumbs up from me as it also includes my other two favorite blonde bad-boy vampires – David (Lost Boys) and Spike (Buffy), as well as the amazingly awesome Eli (Let the right one in).
You can browse the entire list here
One very weird (and slightly disturbing) thing that the eagle eyed among you will have noticed, is that The Guardian have posted this under their Children's Books Section. I think my children would have to have been very bad indeed to warrant a visit from some of the un-dead, fanged night-walkers they have included. Count Dracula as the Guest of Honor at the School Christmas Party anyone?