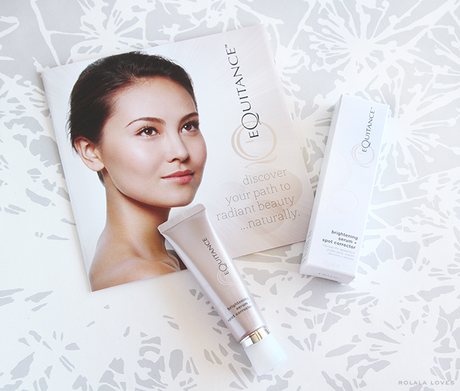 A number of brightening products make up my skincare routine at any time since I'm constantly on a quest for a luminous complexion and vanquishing the freckles/dark spots on my face. I'm actually currently using four as we speak so when I had a chance to add the Equitance Brightening Serum + Spot Corrector, I couldn't pass it up. This product is part of the Equitance Brightening System and Equitance is a brand which has been on my radar for awhile.
About the Brand: Rooted in Japanese traditions and inspired by beauty in nature, Equitance was founded in Japan 18 years ago on a quest to uncover the mysteries of radiant beauty. Today the company's landmark research has culminated in an exclusive pathway to vital vibrant skin. Representing the best of Eastern and Western research and practices, Equitance Skin Care brings precisely balanced botanicals and clinically proven technology together to continuously brighten the skin.
Key Ingredients: Linoleic Acid is extracted from safflower seed oil, purified and put into an exclusive brightening system to target the appearance of dark spots and improve skin brightening and radiance. Ascorbyl Glucoside is a vitamin C derivative with skin brightening properties. Cherry Blossom Leaf Extract which possesses properties to soothe and soften rough skin is culled from Japanese sakura trees. Shell Ginger Extract which is derived from the Japanese alpinia speciosa leaf has intense moisturizing properties to help brighten skin.
Packaging: An elegant looking rose gold colored stand up tube which you squeeze to dispense the product. I prefer tubes in general since they are hygienic and you can cut them open when you get towards the end so as not to waste any product.
Price: $125 for 1.0 fl. oz./30g.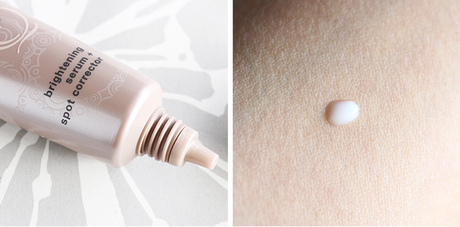 READ ON ≫
Connect:
rss
♥ bloglovin' ♥
facebook
♥ google+ ♥
twitter
♥ pinterest ♥
shop