'Poetry For Dummies'
(bless it) defines an
epigram
as: "a very unified, sharply pointed poem, often quite short".
Apart from my taking exception to the extraneous 'very' and 'sharply' (something is either unified or it's not, pointed or it's not) plus the fact that 'pointed' doesn't really get at an epigram's inherent wit or humour, the definition is spot on! That said, there is often confusion as to what is an epigram as opposed to an epigraph or an epitaph or even a punchy joke (aka the smart-arse one-liner). Simply - an epitaph is an inscription on a grave or headstone, an epigraph is a short quote as a header to a longer work (poem, chapter, novel) and an epigram may double as a punchy joke (if the form is right) but not all punchy jokes are epigrams.
Examples may help. My favorite epitaph is the one Spike Milligan insisted should appear on his grave stone: "I told you I was ill." Best epigraph award goes to "Most people ignore most poetry because most poetry ignores most people" from the frontispiece of Adrian Mitchell's 1964 '
Poems
'. And my favorite punchy joke, that is like an epigram but not, comes from Ken Dodd: "In Paris, the tables and chairs are out on the streets. In Liverpool we call that eviction."
Many talented and witty literary giants have written epigrams. The form started out as a  brief poetic inscription about the dear departed on graves in Ancient Greece (not to be confused with an epitaph, LOL) and only came to acquire its humorous/satirical intent in the days of the Roman Empire.
Latterly, Ogden Nash, Dorothy Parker and Oscar Wilde in particular have proved quite prodigious in their output of epigrams, but in my opinion, the daddy of them all was Mark Twain (real name Samuel Langhorne Clemens) - hence my epithet for him -
Epigram Sam
(with an obvious nod to Marc Bolan for those of you familiar with T.Rex).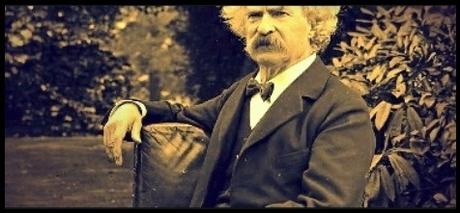 Epigram Sam
Twain is responsible for hundreds of pithy sayings, some more unified, pointed and shorter than others. I'll make it easy on myself this week by quoting a few for your interest and amusement.What is striking about many of them is their continuing currency, even though they are over a century old. What does that say about the ways of the world? Here goes:
"I don't like to commit myself about heaven and hell; I have friends in both places."
"The political and commercial morals of the United States are not merely food for laughter, they are an entire banquet."
"Politicians and diapers must be changed often, and for the same reason."
"Often it does seem a pity that Noah and his party did not miss the boat."
"It is better to keep your mouth shut and appear stupid than to open it and remove all doubt."
"Where prejudice exists it always discolours our thoughts."
"You can't depend on your eyes when your imagination is out of focus."
"Of all the animals, man is the only one that is cruel. He is the only one that inflicts pain for the pleasure of doing it."
"The man who does not read good books has no advantage over the man who can't read them."
"Always do right. That will gratify some of the people and astonish the rest."
I thought that knocking out a short poem in epigram form would be a doddle. It wasn't...
Marianismo
Between the pornography of type
And the typography of porn
The man made cult
Of the misandrist was born.
Which leads on to Dorothy Parker, so renowned for her quick wit that she was often challenged to compose an epigram on the spot, or at least to parody an existing one, using a word supplied by her audience as a prompt. My favorite was delivered (allegedly) on the occasion that someone challenged her powers with the word 'horticulture'. Taking barely a pause to think, she bounced back with the line "You can drag a whore to culture but you can't make her think".
I'll leave you with a parody (sadly not an epigram) that I fashioned out of one of Oscar Wilde's most famed quips: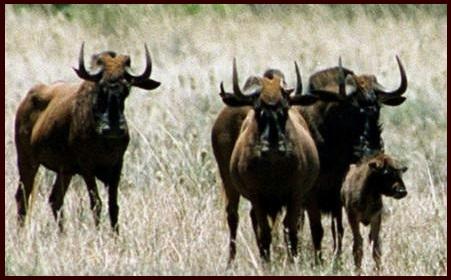 "I have nothing to declare but my gnus" - Oscar Wildebeest
Thank you and goodnight. I hope you enjoy(ed) your extra hour in bed, S ;-)
Email This
BlogThis!
Share to Twitter
Share to Facebook
Reactions: