Is it the water in Upper Darby, Pennsylvania, that's causing a rash of public sex and lewdness?
Upper Darby is a home rule township bordering West Philadelphia in Delaware County, Pennsylvania. Located just 2.8 miles from Center City (downtown Philadelphia), Upper Darby is Pennsylvania's 6th most populous municipality, with an ethnically-diverse total population of 82,795 in 2010.
Upper Darby first caught my attention about a week ago when I saw a news article about two lesbians being kicked out of a McDonald's there for having sex in the restaurant's rest room.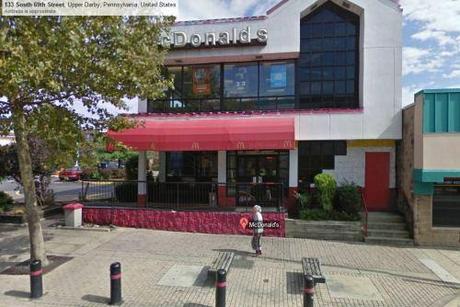 Google street view of McDonald's at 133 South 69th St., Upper Darby, PA.
Stephanie Farr reports for Philly.com that according to Upper Darby Police Superintendent Michael Chitwood, shortly before 5 p.m. on June 19, 2013, a group of customers went to the manager of the McDonald's on 69th Street in Upper Darby and told her that there were two women engaging in sex in the restaurant's second-floor bathroom. "Everybody should do their own thing but doing it at 5 o'clock in the afternoon in a McDonald's bathroom – whether you're female and female, female and male or male and male – what the f—?"
The manager went to the bathroom and threw the lesbians out of the restaurant. Shortly thereafter, the group of seven or eight people who had complained about the women ran outside and began assaulting the couple. One of the women was stabbed in the shoulder with an unknown object by a female in the attacking group who appeared to be around 40 years old and had two children with her. As police arrived, the crowd scattered.
The officers had to convince the stabbing victim to seek medical assistance at a hospital, where she was treated for her injuries and released. The couple said that their attackers used derogatory language against them during the beating.
Police are in the process of obtaining surveillance footage from the McDonald's to determine the identity of the attackers.
Upper Darby's 69th St. seems to be a hub for public lewdness.
Earlier in the month, on June 6, 2013, Stephanie Farr did another report for Philly.com about Charles Dockery (see below) who was arrested by police for openly masturbating on 69th Street.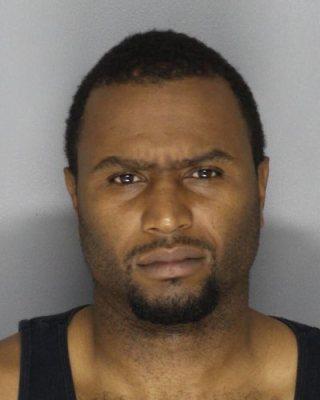 The same beleaguered Upper Darby Police Superintendent Michael Chitwood said police began receiving calls around 6 p.m. Tuesday about a man exposing himself to passersby on 69th Street near Walnut.
When police arrived on scene, they found Charles Dockery, 36, sitting in the passenger's seat of his car with the door open and no pants or underwear on. As police approached his car, Dockery jumped into the driver's seat and sped away, nearly hitting one officer and injuring another. He then continued through the streets and hit two occupied cars and a third parked car. After hitting the parked car, Dockery jumped out of his vehicle and as he did so, a tube of KY Jelly fell out of his car, according to Chitwood.
Following a brief foot chase, Dockery was arrested and charged with open lewdness, aggravated assault on police and related offenses. "I'm sure the KY jelly is being held for evidence," Chitwood said. "I don't think we did a forensic exam on his penis."
Three days ago, Upper Darby once again made the news not in a good way.
The tireless Stephanie Farr reports for Philly.com that at around 4pm on June 25, 2013, 25 police officers from various departments were taking part in Upper Darby Police Department's annual 5-day bicycle school in Naylor's Run Park.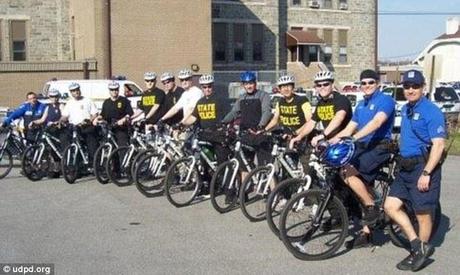 The cops on bikes were wrapping up their exercises for the day when they made their way to the baseball field, after passing by children on swings and people on the tennis courts, and stumbled upon a partially-naked couple having sex on a park bench near the baseball diamond.
The very beleaguered Upper Darby Police Superintendent Michael Chitwood told Philly.com: 'There they are, on the first base line. There's a bench, she is bent over the bench and our friend is behind her with his pants down to his ankle, banging away."
Chitwood added that it was a hot day with temperatures in the 90s, so there was luckily no one around to witness the outdoor exploits of Jennifer Harvey, 41, and Richard McBride, 37. However, as Harvey and McBride were being arrested, a teenager did pass through the area.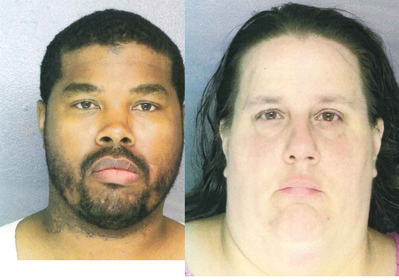 Richard McBride (l); Jennifer Harvey (r)
Harvey, of Clifton Heights, and McBride, of North Philadelphia, were both charged with lewdness and disorderly conduct.
Chitwood said, "Imagine being arrested by 25 cops. 'They were as shocked as the police were. These officers go on a tour of Upper Darby to see the sites and neighborhood and instead get taken to sex incorporated."
~Eowyn