If you've been following Clarineticus Intergalacticus, you will remember an earlier interview with clarinetist Tim Sutfin. In a few weeks, Tim will be premiering Scott McAllister's newest piece for clarinet and piano: Epic. 


Commissioned in 2011 by a consortium of 11 of the country's top clarinetists, American composer Scott McAllister has written the single longest solo work for clarinet and piano, aptly entitled:

Epic.

The

piece draws inspiration from McAllister's life experiences as a clarinetist and composer, including traditional warm-up exercises, orchestral excerpts, composer Aaron Copland, clarinet legend Robert Marcellus, folk singer Richie Haven's

High Flyin' Bird,

and even the late pop icon Michael Jackson.

This

will certainly be a performance worthy of the title

Epic,

and is not to be missed!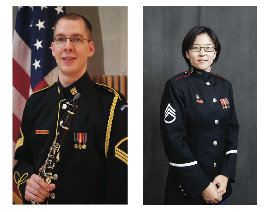 SSG Timothy Sutfin, clarinetist with
The
U.S. Army Concert Band, will be the
first
member of the consortium to perform this piece publicly in its entirety. He will be joined by SSG Yalin Chi, pianist with the U.S. Military Academy Band at West Point. 
The world premier performance will be give at Brucker Hall on Historic Fort Myer in Arlington, Virginia on April 10th at 7:30 PM. If you are unable to make it to Arlington, catch the live audio-stream at www.usarmyband.com.