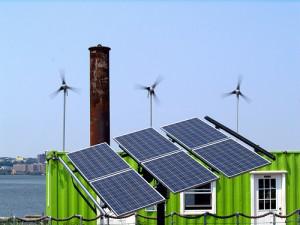 Until costs of renewable energy can compete with traditional sources like coal and nuclear, it will be difficult for them to gain a large foothold. Recent news of hydroeletric power surpassing nuclear, at least temporarily, indicates that some shifts in electricity generation are occurring. However, finding reliable data to compare these alternative sources to extant energy supplies has been a stumbling block.
Enter the Environmental Protection Agency's (EPA) Renewable Energy Cost Database. The EPA created the database in "an attempt to fill this void of renewable energy — specifically for electricity generation — cost information. The database is a compilation of existing cost data for wind, solar photovoltaic (solar PV), solar thermal (CSP), and geothermal energy technologies, including historical costs and projected costs for each."
The following limitations are placed upon the database:
First, the data is based only on publicly available sources; actual costs of renewable energy projects are not typically divulged.
There is a time lag in making technical papers publicly available.
Because the renewable energy field is rapidly evolving, the information contained in it is not immediately current.
Finally, while we include cost information along different metrics (e.g., capital costs, operating costs, maintenance costs, etc) different sources may define these costs differently. Thus, true "apple to apple" comparisons may require a more extensive look into the sources. Still, the spreadsheet does provide a reasonable aggregate view of costs.
According to the EPA, the target audience of the database ranges from lawmakers to energy consumers. Getting the information in an organized, reliable, and easy to digest format will help clarify the costs and strip away the guesswork when comparing new energy sources to existing ones. The Excel file is available for download. Click here if you would like to access it.
[Image source]