Randy Sy Mendoza from Mandaluyong City - guest for the seventh episode .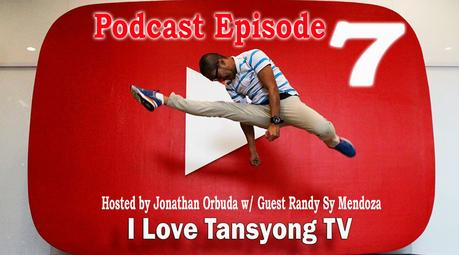 Topic : The Art of Letting Go. Not all relationship ended successfully , some failed due to some reasons. And  so we have to let it go for the betterment. But letting go a relasionship is not that easy. It takes a time and a process for us to move on. The "Art of letting Go" - it can be applicable to anybody but sometimes it's not. 
In this episode,  Let us hear from our guest speaker and podcaster Jonathan. BUKAS NA SABADO 11PM
🗓️ NEW EPISODE EVERY SATURDAY 11PM Philippine Time.
LISTEN THROUGH YOUTUBE:
LISTEN VIA FACEBOOK :
💬 Join Out Chat Group - 
https://t.co/f3fGzkWJPY
Support me in producing future content - https://www.patreon.com/ilovetansyong
You can sign up Patreon for free -
https://patreon.com/invite/rzrojl
🔀 Playlist:
🍽️  BestBite -
http://bit.ly/FoodTripNiTansyong
💪  Bucketlist & Challenges -
http://bit.ly/TansyongBucketList
🕺  DANCEsyong - http://bit.ly/TansyongVEVO
🎵 COVER SONGS -  http://bit.ly/TansyongMusic
🤣  iReact -  http://bit.ly/IREACT
🌏 Travelogue - 
https://goo.gl/Gh3Tid
#️⃣  SOCIAL MEDIA : #️⃣
⏩ Facebook : http://bit.ly/JonathanOrbuda
⏩ Instagram - http://Instagram.com/Ilovetansyong
⏩ Twitter -
http://Twitter.com/Ilovetansyong
🌎 Visit Also My Official Blog http://www.ilovetansyong.com