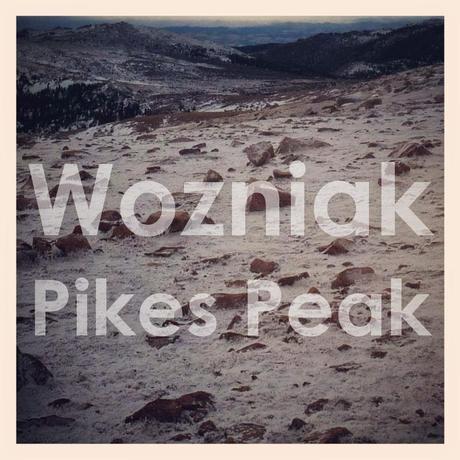 Looking at the cover art for Wozniak's Pikes Peak EP – a barren, almost lunar hilltop photographed at dusk – the listener is given a visual hint that there will be an introspection and distance to the forthcoming sound. This is obvious from the outset with El Maresme,  a hypnotic opener comprising slow crescendos of bass, drums and reverberated guitar.  The delivery and melody are sombre and the female vocals create an otherworldly detachment.
Paper Hat  is the second track and the undoubted highlight.  Like the title would suggest, there is a celebratory edge to the intertwining melodies and harmonies played out by the Edinburgh four-piece.  The track is a credit to their synergy.  Delivered with sanguine anticipation, the reverberated guitars create a bittersweet sound and melancholy reminiscent of the haunting Oomingmak  from Grangemouth's Cocteau Twins.  The structure of the track is somewhat more traditional, utilising the fabled strophic form.  That said, the sound remains original and congruous.
The heavier and more urban sound of Kreutzburg  follows.  Like the forward thinking Kiez after which the track is named, there is an abrupt and unabashed arrogance that underpins it.  The hypontic bass which featured so heavily in the first track is obvious and the listener is immediately brought back into the sobering and industrial sounds of the cityscape.  Every note and time signature is deliberate.  The track cascades into a dark crescendo of distortion and noise finally climaxing at a beautiful moment of clarity, allowing the listener to pause.  The broken piano in this outro reveals the melody that was hidden by the overarching buildings and dirt of the city.
The EP quickly moves on to the suitably named Colombo's Car,  a track filled with plenty of distortion, driving bass and rolling drums.  This showcases the heavier side of Wozniak and features an excellent psychedelic breakdown followed by more distortion and bass-heavy riffs.
The concluding chapter to the EP is Gestamtkunstwerk.  Ambient and through-composed in design, there are similarities in sound to Glasgow's Fragile X.  The track is full of subtleties, discordant echoes and dark movements.  The title translates as 'synthesis of the arts', representing totality in design and creation.  When German composer Richard Wagner coined the idea he was envisaging art of the future, a foresight of the unification of all kinds of arts.  One cannot help but think that naming the final track on this EP after this concept was deliberate.  Rather than being an overbearing and pompous aesthetic spectacle, Pikes Peak  represents true integration of all the elements of a performance and is consistent in both sound and structure.  Vasilly Kandinksy famously referenced Wagner's principle stating that song should "harmoniously combine music, colour, plastic and word".  Wozniak have achieved this with dramatic effect.
- Andrew Kidd
Wozniak - Pikes Peak  is out now via Morning Side Young Team Records and available to download here.