Less than a week ago, I wrapped up quite an interesting school year. I am still mid-reflection about how my school year went, but I feel 'interesting' is a solid word choice to describe it. For lots of reasons…
I started late. 8 weeks late to be exact, due to taking maternity leave. It is the strangest feeling to be just getting started when everyone else is already knee deep in student issues, concerns, schedules, etc. Would I change the time I took? Absolutely not. At the same time, it set me up for a challenge, that's for sure.

Speaking of maternity leave, this was my first year trying to balance two full-time jobs. When I didn't have my school counselor hat on, I had my mom hat on. Sometimes, I had both on at the same time. Insert #momguilt here. 

This school year seemed to be filled with crisis experiences, either first hand or second hand. Either way, I had my state's 24/7 crisis hotline number memorized by about January.

Because of the many hours crisis work takes, I had to make a very difficult decision this year. I am split between schools, and furthermore, I was being split between my proactive, preventative services and my reactive, responsive services. I couldn't do both effectively, and so, I had to push pause on delivering classroom lessons. This about killed me to do, but I felt I had to in order to handle each crisis with the care it deserved. 

I got to work with some new professionals this year, both in district and out of district. Each added knowledge and expertise that helped me grow as a school counselor.
Along with my reflections, I want to use this post to share my school counselor newsletters I created this year, as well as my end of year report.
School Counselor Newsletters
As in previous years, I like to share my newsletters that I create for staff, parents/guardians, and community members. This year, because I was not able to do as many classroom lessons as preferable, I focused my newsletters on topics relating to common issues I found myself discussing with parents/guardians, students, or colleagues. I had planned to publish two newsletters per trimester; I fell shy of that goal due to reasons #1-3 above.
Anyway, here is what I was able to publish! I am happy to share them to help you create your own. As always, if you use most or all of one of my documents, please be respectful and give credit. Click on each link to see the newsletter.
Trimester 1 (November) – Mindfulness introduction and a blurb about my upcoming school counselor website.
Trimester 2 (January) – Helping children cope with "big" feelings through validation, education about the brain, and self-regulation skills.
Trimester 2 (February) – Importance of connection and understanding the root of behaviors from a new perspective.
Trimester 3 (May) – Media and screen time influences on children and how to set media guidelines.
End of Year Report
I have come to truly love collecting data to put in an EOY report. I love the accountability it provides for what I do each day. I love the validation I get from seeing the actual numbers for services I provide to my students. And what I love the most is when my data  is used for actual change. This year, my mid-year and EOY reports were collected and analyzed to consider INCREASING school counseling services in one of my very needy schools. HOW FREAKING AWESOME IS THAT?!?!
Because I know my reports are being looking at by administrators, among others, I decided to add a couple of things to my EOY report this year. First, I added a section to my google form I use for note taking: scheduled/planned vs unscheduled/unplanned meeting. That means that every time I inputted a new note after meeting with a student, I checked off whether it was a meeting I had planned for or not. I was then able to use this information to see the percentages of my scheduled vs unscheduled time in responsive services (you'll see these percentages in the report below). 
The second thing I chose to add to my actual EOY report is a summary and take-away section. I realized that I knew exactly what my numbers mean because they are MY numbers; I am immersed in this data all year long. However, others are not. If someone is looking at my data for the first time, they might be impressed or they might not be, especially if they don't know exactly what the numbers mean for our actual students. This year, I wanted it to be crystal clear what my data is showing as far as the needs in my schools and the vast differences in the services provided. 
Click on the picture to view the full report.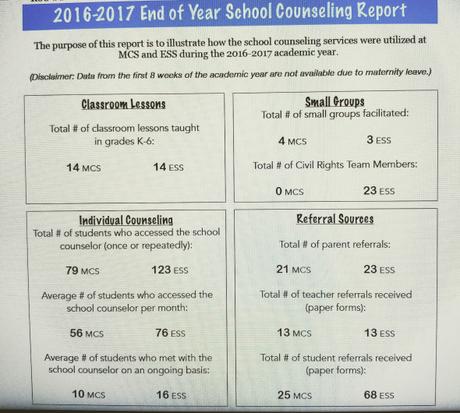 Thanks for reading my reflections and viewing my newsletters and EOY report. I hope you have found something useful here for your own important work. 
Enjoy your time! 🙂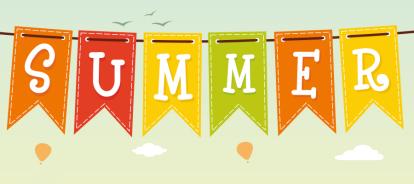 Advertisements