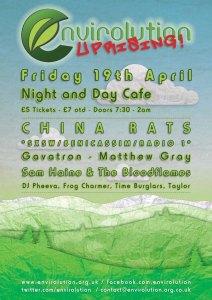 We are back and this time we are taking over the Night and Day Cafe in the Northern Quarter (on Oldham Street) We will be joined by China Rats (fresh from SXSW Festival)
Envirolution is back with an even bigger and better fundraising event! We have a night of amazing entertainment planned for all you lucky lucky people.
We are rather excited to welcome back CHINA RATS! (https://soundcloud.com/chinarats – have been featured on Radio 1 and will be playing this year's SXSW Festival)
GAVATRON (back after his performance at our Christmas Fundraiser)
SAM HAINE AND THE BLOODFLAMES (https://soundcloud.com/thebloodflames)
MATTHEW GRAY (https://soundcloud.com/mathew-gray – played Festival No.6 and was played on BBC 6 Music)
And we also have some of our fave Dj's to play you some tunes in to the early hours
FrogCharmer
TimeBurglar
Deejay Pheeva
This will be a ticketed event that will be available to purchase before the event and on the door on the night…… more information to follow!Hope to see you all there!!!!