The best 'FREE' day in Platt Fields Park of the year.
We are back for our yearly extravaganza in and around the Eco Garden of the park. There will be live music, theatre, live art, workshops, discussions, family fun, fairground games, solar power, pedal power, food, drink and loads of smiling faces.
All for the lovely price of FREE!
ParkLove Stage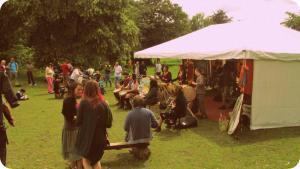 The stage this year will be powered by the sun via
Songsmith Solar
.
14:00 – Opening group of Drummers
14:30 – Capoeira Angola Manchester
15:00 – Jezabellezza
15:30 – Filthy Lucre
16:00 – Franco and The Dreadnoughts
16:30 – Templebys
17:15 – Sam Haine and The Bloodflames
18:15 – Wobbly Hearts
Fair Trade Ground
 With "Whack a Fat Cat" and "Don't be Shy; Crack my Coco-Nuts"!
Pow Wow Pedal Power Stage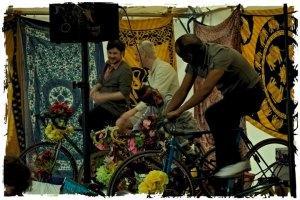 A stage with a difference – family-powered with parents and children pedalling to raise the volume.
2pm Bells and the birches
3pm Curly Wurly Theatre Company
4pm Ben Playford
5pm Wandering Shadows
Envirolution and Folks
Come say hello, find out what is going on … and get involved
Envirolution Tent -
Knotted Beard Photo Booth
–
Pop Up Farm
- 
Mamu's Greenwood Craft
– Free Face Painting – Tree of Art – Stitched Up – Venture Arts - 
Rubbish Revamped
–
Morff's Mudballs
- 
Friends of Platt Fields Park
+
Chorlton Plant Swap
- 
Crafters
-
Manchester Slackliners
The Chatting Duck Tent
A fabulous opportunity to have your say about the future of your city and your community with discussions throughout the day. This will be facilitated by Manchester Climate Monthly
14:00 What is a 'Low Carbon Culture'?
15:00 Targets for 2014
16:00 What and Who is in the way?
17:00 Who can help?
18:00 What skills do we need?
The GRASSROOTS Tent
presents Bradford Peasants Collective -
No Dash for Gas -Faslane Peace Camp – The Guerilla Gardeners -.Katleberry Finn – Campaign against Depleted Uranium
Workshops and discussions on environmental grassroots activism, community organising, self-sufficiency, urban gardening, herbal medicine, living autonomously and the priniciples of permaculture.
The Market
Chorlton Refurb - Action for Sustainable Living – Oxfam - Greenpeace - I Am Tree – Voyage To The Edge Of The World – Manchester and Salford Ramblers – EcoSpeed - Ethical Pets – The Kindlign Trust -  Fallowfield Secret Garden - LGBT Youth North West / LGBT Centre - Moss Side Community Allotment – Groundwork
Bee World
Manchester and District Beekeeper Association  -  Manchester Friends of The Earth - Three Bees
Bike Hub
Greater Manchester Cycling Campaign - 20′s plenty for Manchester – a showcase of bamboo bikes - Edinburgh Bicycle Cooperative – Revolve MCR
Food and Drink
An assorted mix of treats; A tea vendor with a choice of over 50 flavours (Tea Jamboree), Indian street food (Chaat Cart), a café on a bike (Coffee Crank Cooperative), lovely homemade vegan food (Teatime Collective), Delicious homemade cakes (Ruthaliscious Cake) and cycle powered smoothies (The Rejuicynator).
Lakeside Lounge Wellbeing Area
Come chill your boots in the Lakeside Lounge next to the Labyrinth.
Plus some relaxation classes starting from 14:30 with An introduction to Yoga from Kundalini Yoga
Also, within the Labyrinth we will be creating a map to see where all the exciting and inspiring projects are in relation to Platt Fields Park.
Pledges
Throughout the day you can collect pledges from around the various areas of the festival. Once you have filled your programme bring it to the Envirolution Tent to enter into a prize draw. The prizes will include a free bike from Edinburgh Bicycle Cooperative (worth £350 or vouchers to the same value)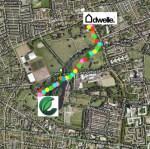 Dwelle – The Eco House
There will be an open day at Dwelle on Wilmslow Road as part of Envirolution. Drop in for some refreshments and a look around this award winning eco demonstration home.
A BIG thank you to everyone in the programme, The Envirolution team, all the volunteers and everyone else who helped make this day a success including Dwelle for hosting an open day at their eco home.