The dust has settled on a spectacular Summer for us. A day of Envirolution in the sun at  Platt Fields was followed by many Pop Up Farm weekend retreats including Miles Platting Festival, Beatherder Festival, Just So Festival and Festival Number 6. Alongside this, we have also become Associate Members of the Friends of Platt Fields Park and organised ourselves into a 'Society for the Benefit of the Community' (or BenCom for short).
As always, the highlight of the year was our yearly 'Envirolution Day of Environmental Extravaganzas' in Platt Fields Park. We were once again treated to a beautiful Manchester day. The sun was shinning and the day came together perfectly to leave a long lasting smile on all our faces.
I awoke on the 21st July in a state of calm, quietly confident we had everything in place for a successful day. In my eagerness, I found myself first to arrive at the park (at 7.30am) which gave me the chance to relax with the swans and geese, looking out to a gloriously sunny day over the lake.
As the morning moved onwards, an energetic army of volunteers turned up to set the scene in the Eco Garden, a place I personally believe to be one of the best spots in Manchester. The volunteers (as in with previous years) were really hard working and it was a pleasure to share the Envirolution name with them on their logoed t-shirts.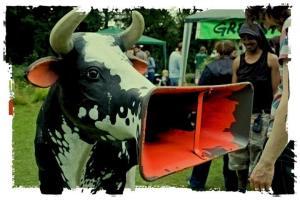 We have been lucky enough to create a lovely network of people who support the event and so we were welcoming back some old friends as well as opening our arms to some new ones – including an unexpected visit… Our cow does not currently have a name; please feel free to send in a suggestion.
In what is becoming an Envirolution tradition the event was opened by drummers, this year it was Wangari Drumming Collective.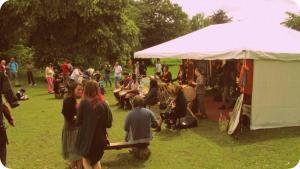 Their energetic rhythms set the tone for the day, of which the atmosphere could not have been more welcoming and friendly.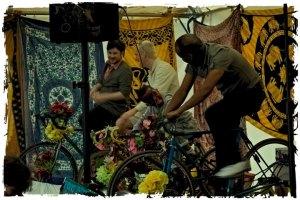 Where would the day be without the entertainment area powered by the fabulous Pow Wow Pedal Power with their four cycle generator? Trying to 'walk the talk' and create a low impact event is made a lot easier with friends like these.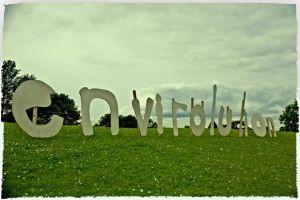 An addition to the landscape that framed the entertainment area was our very own Hollywood style sign one top of the hill. The letters, some towering over seven feet tall, started the day with a fresh clean white coat and waited patiently for some colour. The team from Venture Arts were on hand to assist a small band of volunteers who eagerly throughout the day created a masterpiece that stood proudly looking down from its perch on top of the hill.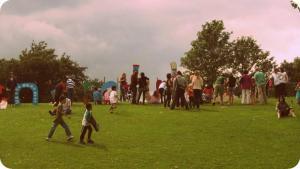 Although it is not all paint, cycling and drumming. One of the exciting aspects of the event is the chance to invite all the inspiring groups that are tirelessly working away throughout the year. Whether this is trying to create an effective food or recycling system in our city, or to create a little green corner in their community or gather a group of fiends to create a sustainable student house. We were honoured to welcome a packed Eco Garden full of these projects.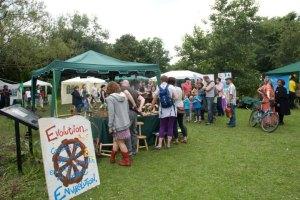 How to fit all the wonderful stories and ingredients that made the day so special into a short blog post is impossible. Like the three girls that lost themselves in a mud fight in a mucky soggy puddle in the middle of the entertainment area. Each of them finishing satisfied that the other was covered from head to toe in a thick splattering of Platt Fields mud.
There were a few more personal highlights I want to mention.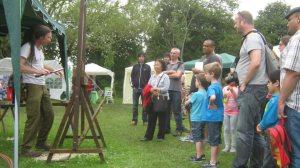 Firstly that Mamu Greenwood Crafts, one of many of the hands on workshops on offer, came back to demonstrate his skills in wood manipulation. He was able this year to offer a more interactive experience that people of all ages enthusiastically got stuck into.
Then there was the magnificence of The Spokes,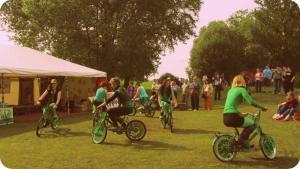 who may no longer be the only all female UK bike dance troupe, but they are still the best.
And the excitement of the children young and adult that were hurriedly striding over to be enchanted by the storytelling of the adventure of Ergl.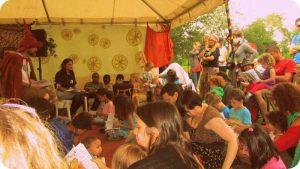 It is very special to come together on a day like this and celebrate through music, talks, workshops, art and laughter. It is also important to remember all that you experience on day is happening throughout the year.
For us it has been working in the park see how we can help improve the space we are blessed to be able to use for our event. We have been working on the Eco Garden for the past six months, with the Friends of Platt Fields, to ensure it stays as one of the best spots, not only in the park, but in our city.
Spending so much time in this creative and inspiring place has led to the development of new ideas and projects. One of these is looking at an environmental solution to clean the lake to take it back to its former boat friendly glory. This linked to the event through the fun, if not a little messy, mud ball making workshop.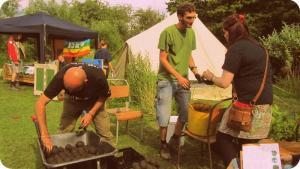 We will be continuing to stay involved in Platt Fields and welcome you to join us there and elsewhere as we continue our Envirolution Journey.
Thank you again to all those who help us with Envirolution this year, we are looking forward to working with you all again next year.