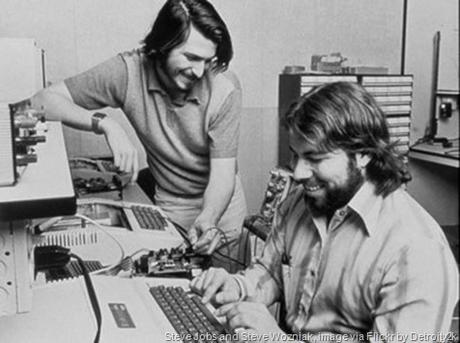 Apple
PayPal
Facebook
Look for people with complimentary skills and experiences. It may seem like a perfect match to find someone who thinks like you, but these don't broaden your perspective and generally lead to disagreement on details. Inventors and engineers need business people, and creative types need a logical perspective to balance their dreams. 
Consider relocating to a more startup-friendly environment. Face reality. If you are having trouble finding partners and team members near you, you will likely also struggle to find investors and advisors. It's easier to move before you have big local investments and people dependencies. Now is the time to set priorities on lifestyle and act on them.

Expand your scope beyond friends and family. The best way to start is business networking through local groups and online forums. It's always valuable to build relationships with other startup founders, as well as startup advisors and investors. Make an honest list of what skills and experience you really need to build the strongest team.

Do online research on crowdfunding and partner dating sites. The challenge is to find people with your interests, but complimentary skills. Remote partners and teams are very common today, so don't be afraid to contact others, including competitors. Examples of co-founder dating sites include Build It With Me, CoFoundersLab, and Founder2be.

Look into other business areas and other cultures. Often times, the help you need is outside your familiar domain, and more into marketing, distribution, or manufacturing. It may be outside your country, in a different culture or environment. Many entrepreneurs outside the U.S. would love to partner with someone here, and bring much to the table.

Don't underestimate the value of experience and connections. Every first-time entrepreneur should find a co-founder who has built a startup before. Beyond that, connections to investors, suppliers, distributors, and major potential customers are almost always more valuable that technical or business organization skills.

Test potential partner compatibility outside of the office. Startup co-founder relationships have to survive severe stress, disagreements, and changes in direction. Take your time in getting to know a potential partner on a personal and emotional level, as well as a business and technical level. Co-founder implies a long-term relationship. 
Negotiate and document task assignments and titles. Although you may have a clear view of your co-founder responsibilities, it probably doesn't match your partner's view. A simple partner agreement, signed by both parties and updated every six months, will prevent future breakdowns and lawsuits that have destroyed many promising startups.