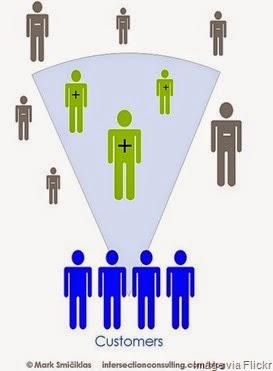 Most startups are happy to find any customer, and will hang on for dear life to every one. Only later do they realize that some of these cost more than they are worth, or lead into commitments they can't sustain, but no business wants to violate the golden rule that every customer needs to be treated as if they were the only customer.
In reality, the real world is full of pragmatics. Every smart entrepreneur needs to realize that trying to treat every customer the same, with limited resources, may mean that you are treating them all poorly, or at least limiting your own growth. Mike Michalowicz, in his satirical book "The Pumpkin Plan," makes some excellent points with the analogy of how growing a business is like a farmer who struggles to grow championship-size pumpkins.
They generally treat all pumpkins with respect, but they don't treat them all the same. Likewise, you have to rank your customers, fire the troublemakers, and eliminate unfit ones. Then you can focus your energy on the core client group, and keep these folks so happy that they will never leave you for the competition. Here are some key principles we both recommend along the way:
Favoritism . . . it's a good thing. Playing favorites is nothing to feel guilty about. It's simply good business, and mandatory for your success. Your top clients or customers need to know they are special, to feel special. Go out of your way to help them grow their own business. Don't try to make every pumpkin a giant pumpkin, because it never works.

The customer isn't always right. But the right customer is always right. Make them your favorites. Think of your business as a membership organization, with reasonable rules to join. The rules are for you and your team only, so no potential customer needs to feel excluded. Your goal is to grow every joining member into a record-breaking pumpkin.

Under-promise and over-deliver. This ability seems to be a lost art these days, which makes it so powerful in making your special customers feel special. Masters of this process plan to have the work done before it's due, so there is no panic and no freaking out. Remember, you will be measured by your actions, not your words.

Don't hide the secret sauce. With the Internet, the days are gone when you could hide your key advantage, to keep competitors from catching up. Be the first to share the knowledge that demonstrates you are better. Secrets make people nervous. The more they trust you, the more they rely on you, buy from you, and sell for you.

Keep yourself an inch ahead of your competition. It only takes an extra pound to beat the world record. Equal isn't good enough. But manage your focus and resources carefully to be a little bit better, a little bit more helpful, and a little bit more creative for the long haul, as well as for the moment. Both you and your customers will be the winners.
On the other side of this equation, how do you fire a customer that doesn't fit your business? Mike suggests the following approaches, which do take effort and discipline, and need to work within accepted norms and legal business practices:
Prioritize the stars. When the best clients call, they get services first. The cringe-worthy customers get pushed to the back of the line. Each will get the message you are trying to send, and you will have the differentiation you want.

Eliminate services. Sometimes this simply means you need the will power to not accept customer requests that you can't satisfy. Another approach is to explain that you have shifted all your resources to another segment, and can no longer help this customer.

Raise prices. If you really want to see bad clients run for the hills, raise your prices. If your prices go up, your perceived value will go up, and you may no longer be the whipping boy of commodity customers. Point them to big-box providers for low prices.

Refuse to two-time. Another way of breaking ties with a demanding client is to explain that you have an agreement with a major client that prohibits you from servicing anyone else any longer. Introduce them to an alternate vendor, to make it positive.