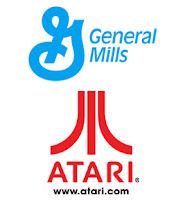 MyBlogSpark sent me Honey Nut Cheerios, Cocoa Puffs,
$10 Target gift card and a
free download for "Atari 80 Classic Games In 1." 
 I just love Big G cereals and the fact to bring back Atari is great!  Atari is a classic!  I played it so much, as a child.  I'm glad to get a free download for "Atari 80 Classic Games In 1."  I'll be playing the game with my husband and son.  Big G cereals brought the "Retro" packaging 80′s style for breakfast.  You can collect all 5 different packages.  The Big G cereals has Atari Activities on the back of each box; available exclusively at Target starting February through mid-March.  You can find great cereals at
http://bit.ly/BigGRetroTarget
and for Participating Big G cereals that include: Cinnamon Toast Crunch (17 oz.), Lucky Charms (16 oz.), Honey Nut Cheerios  (17 oz.), Cheerios  (18 oz.) and Cocoa Puffs (16.5 oz.).  The $10 Target gift card comes in handy for me to purchase more Big G cereals. 
It is also
Atari's 40th Anniversary
this year so check out
GrocerySavvy.com
and test your online Atari gaming skills at Asteroids – plus you can also enter the sweepstakes there for chance to win Target gift cards and Atari merchandise.
Let Big G cereals, Target and Atari make your breakfast tubular and something the entire family will enjoy!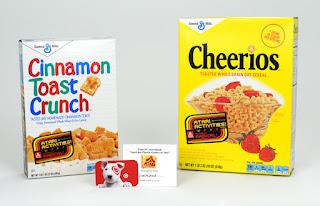 One Lucky Reader Can Win It!  Giveaway Ends: April 2, 2012
(2) boxes of participating Big G cereals 
$10 Target gift card 
A free download for "Atari 80 Classic Games In 1"
"Disclosure: The prize pack, information, and giveaway have been provided by General Mills, Atari and Target through MyBlogSpark."
a
Rafflecopter
giveaway
You need javascript enabled to see this giveaway.