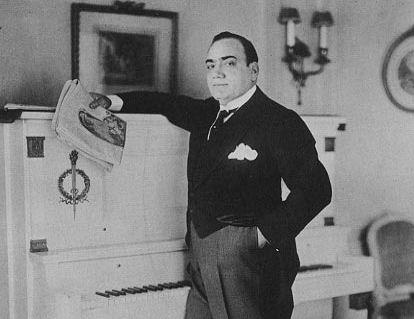 image credit
Enrico Caruso (1873 - 1921) was an Italian tenor. He sang to great acclaim at the major opera houses of Europe and North and South America, appearing in a wide variety of roles from the Italian and French repertoires that ranged from the lyric to the dramatic. Caruso also made approximately 290 commercially released recordings from 1902 to 1920. Caruso's 1904 recording of Vesti la giubba was the first sound recording to sell a million copies.
Although many fine divas stamped their mark on early recording, it was the tenor voice of Caruso which was the defining voice of the early twentieth century. His reputation was due to the fact that people could not only hear him in their own homes, but that his success could actually be measured in record sales;
Enrico Caruso
was the first global superstar of the gramophone era.
The Presurfer