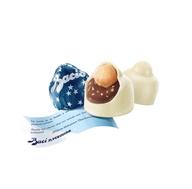 If you're a white chocolate fan like me, you'll want to check out the new Baci White confections from Perugina! "Baci" means "kisses" in Italian, which seems appropriate since I absolute LOVE Baci White! Inside each creamy white chocolate candy you'll find a delicious whipped chocolate filling blended with finely chopped hazelnuts. They are SO good! Baci White is my new favorite indulgence.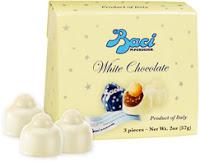 Perugina, the legendary Italian chocolatier and only authentic Italian chocolate available in the United States, also has a wonderful contest going on right now! Enter daily, and they'll pick a winner each month through October 2013 to win complimentary wedding favors! Each Baci White favor features a uniquely designed "gift purse," which contains three Baci White confections. Each confection contains a special message of love inside each foil wrapper. The Baci White Purse can be given out at the engagement party, bridal shower, or as favors on the wedding day!
Go to www.perugina.com to enter Perugina's Wedding Favor Contest! You can also visit Perugina on Facebook and Pinterest. And be sure to look for the new Baci White confections at the store. They're available in 5- and 8-ounce bags, 8-ounce and 1-pound boxes, and in the three-piece purse!