Time spend with friends is time never wasted! I hope you all agree to me on this. Well, roaming around with friends and spending quality time with them is always cherished by all. And when out with friends how can we miss to jump on food?
Memories are made when friends fight for the last slice of pizza, for the only dessert that was ordered! Ah, those times! However, this is the one reason I don't prefer high-end restaurants with friends rather than love to hangout at super cool cafes with amazing ambiance, where you can be yourself with your friends unlike being sophisticated!
Duh? Who loves to do that with friends? I am sure, none of us. Therefore, I have got to you a review of Brown Fox Waffles and Coffee's review- what they have in store for you on their menu card and their ambiance, in short everything.
I have been to this café and found a number of desserts, coffees and waffles to relish my food cravings. Brownfox is located around Pasar Minggu area; one has to look carefully while passing through since they don't have a huge fancy brand signage to see from the street. The cafe considerably has small space, but it has quite a cozy concept with beautiful colorful theme.
Let us now hop on the menu!
Chocolate Chunk Waffle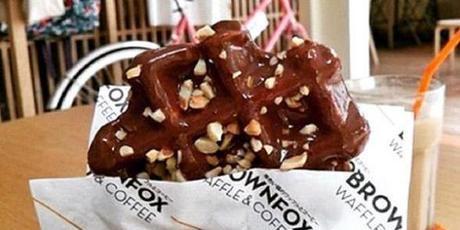 Chocolate is my absolute favorite! The rich texture and flavor of the waffles is mild. It is a perfect combination of chocolate waffle topped by ice cream, chocolate sauce, strawberry slices and peanuts. Oh! Let us move on else I'll soon have cravings for it!
Salted Caramel Waffle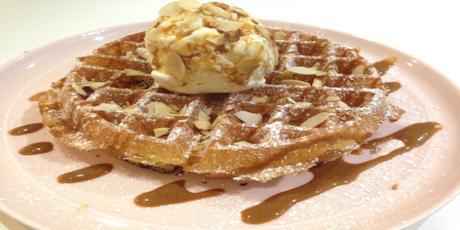 The other variant that I had there was a vanilla waffle topped by ice cream, poured by salted caramel sauce and rounded almond. Sounds yumm? Well, it is actually a mouth relishing dessert!
Banana Nutella Waffle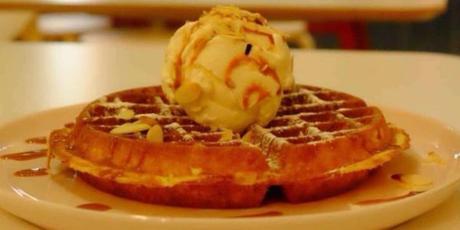 Waffles, waffles and waffles! You might be thinking how boring the café is turning out to be but hey! Don't judge it this way? I bet each waffles tastes so differently and you won't be able to resist yourself from grabbing on them any soon! This waffle has a combination of milky dough with such a good combination with nutella jam and banana slices.
Cheddar Cheese Waffle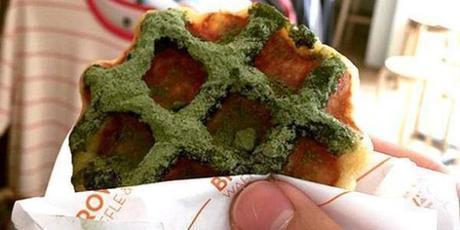 Waffle with cheddar cheese filling and topped by thick cheese sauce and beef bacon. I assure you, this is real savory! If you are cheese lover this one is sure for you!
Cheddar Cheese Fries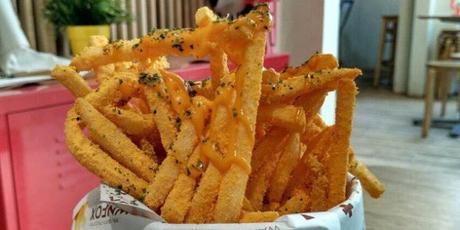 A paper cup filled by stunning fries poured by thick cheese sauce on top.
This ain't the end of list! There are many more such delights that you could savor with your friends and close ones. And yes with friends it is a delight to share bills but then you could save more just by a click on Groupon and avail exciting coupon codes when you join in your purchase with CollectOffers!
Hope you likes the review and would love to munch in here with friends, and do give us your feedbacks and suggestions in the comment box below. Will be back with more such posts.
Until then,
Loads of love!