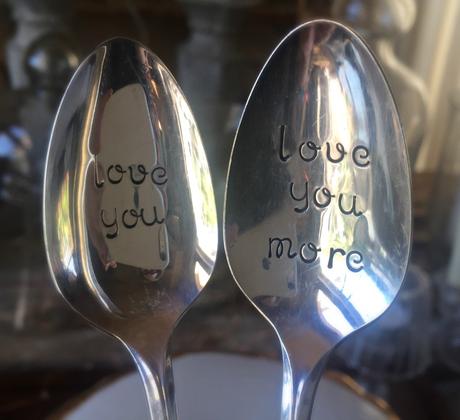 We have another family wedding coming up in the next couple of months.
Our youngest son is getting married
to his gorgeous fiancee in July! 
So it is beginning to be full steam wedding mode at our home these days!
This has made me realize
I haven't even shared the wonderful
Engagement Party
we threw for 
Hunter and Megan a few months back!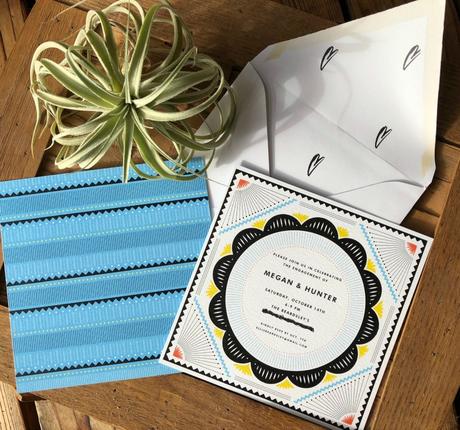 I believe a great start to a party is a 
fabulous invite!
It's an easy way to set a style and tone for the event!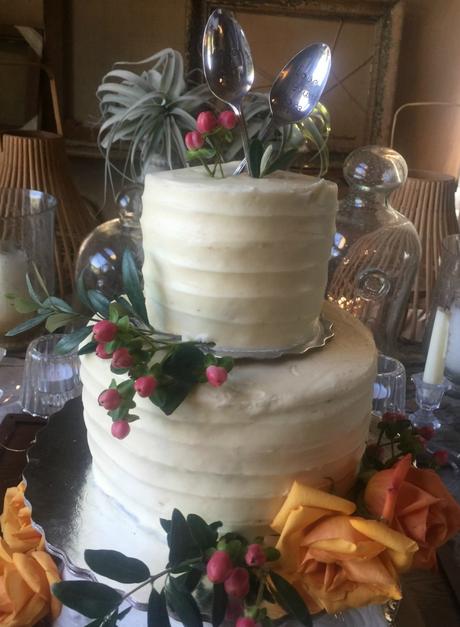 The party was an evening event in the backyard.
I set up a lovely cake table inside
to greet our guests.
These  love spoons are a perfect cake topper
for an engagement cake 
They were an engagement present for the couple
from a dear friend!
I was so happy she gave them to me early!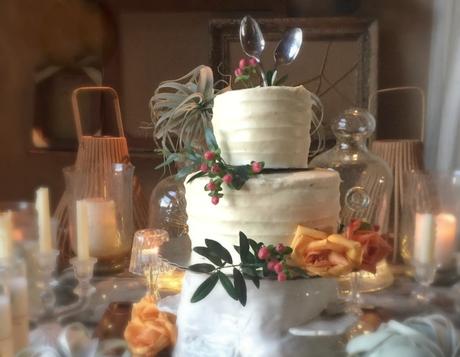 I dressed up 
a simple cake with natural elements.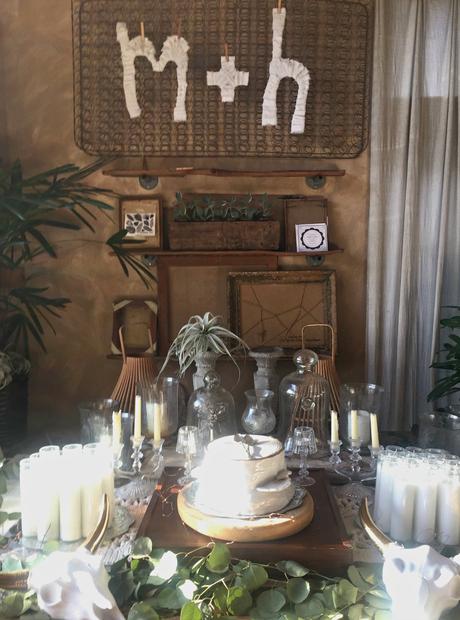 Ellis and I handmade
Hunter and Megan's
initials out of tubing and cotton strips 
to personalize the tablescape.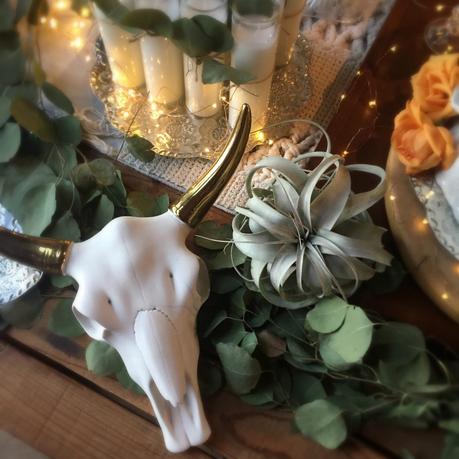 I used plenty of
 battery pack tiny lights
both inside an out that evening.
They are such a quick and inexpensive way to add
some fun drama and ambient lighting.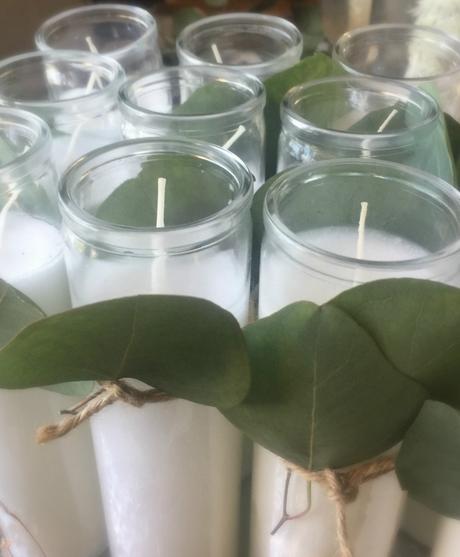 For party giveaways
we had white candles
that we simply finished off with 
twine and an eucalyptus leaf.
I loved the white, which says bridaland there was eucalyptus used throughoutboth inside and out.We got these beauties at the dollar store.Used in massand finished offthey far exceeded their price!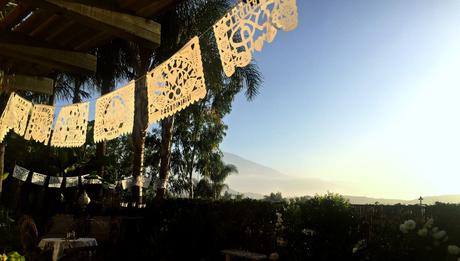 Another design element for the Engagement Partywere the
Mexican Wedding Banners
I ordered 12 packs
and 
used them throughout the party spaces
to tie all the spaces
inside and out together.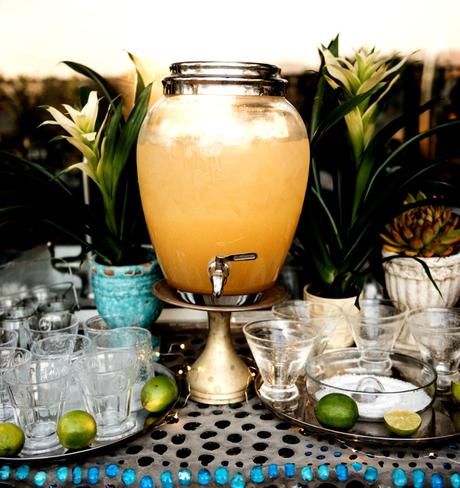 For the menu
we wanted to keep it fun and light
so we did 
tacos and margaritas!
We hired someone to come and make fresh tacos to order.She brought a huge selection of top ingredientswith several meat or vegetarian choices.She was set up in our front courtyardso her setting up, and taking down her cooking stationnever interrupted the party flow.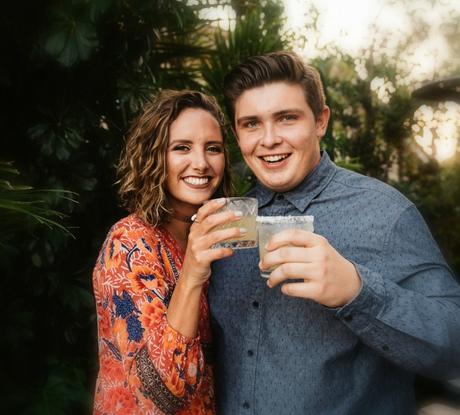 Our gorgeous engaged couple!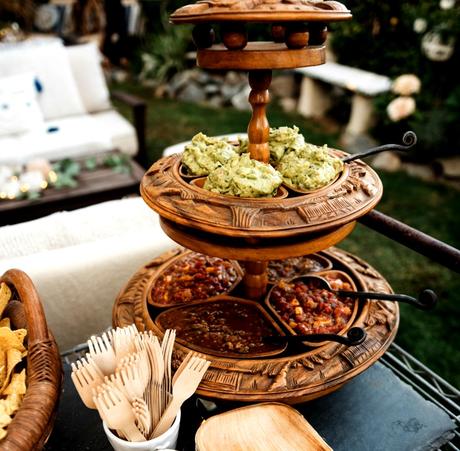 In the backyard I set up
a salsa and chip bar
for easy access for everyone.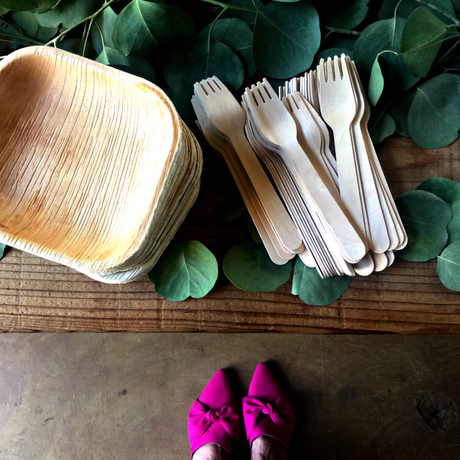 For the appetizers we ordered
 bamboo plates and forks.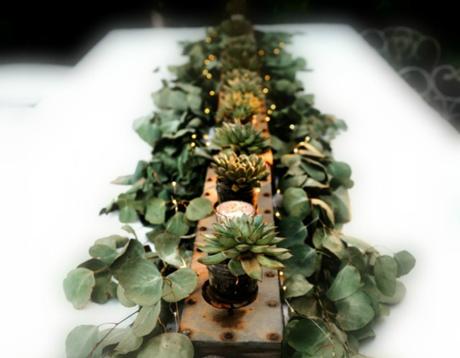 It was an informal partyso I left our tables unsetandhad votive candles with eucalyptusfor decor.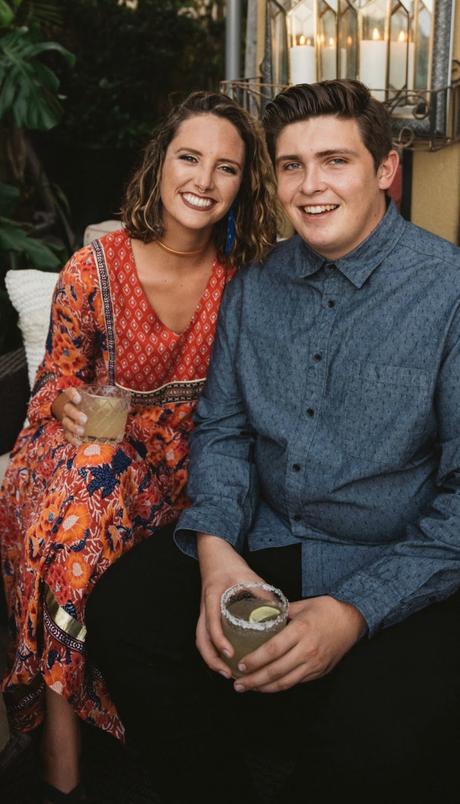 And how gorgeous are these two!They have been together seven years already!They met at summer campthe year before high school!I have loved Megan for yearsalways secretly hoping they would get married,but never mentioning that factas I never wanted to put pressure on either one of them.So I couldn't be happier that they are getting marriedand becoming a member of our family!And I am so happy that our two families will be joining together!Megan's Mom gave me a card that said she thought"god had chosen our families to come together"I couldn't be happier at the joining ofthe couple and our families.

These two might be on the young side
but they are old souls
with maturity beyond their years!
With such an ability 
to see the important parts in life already!
This Momma's heart is  pretty darn proud at the most wonderful 2 spousesmy son and daughter have found!It's a truly joyful timeto see your family growwith such love!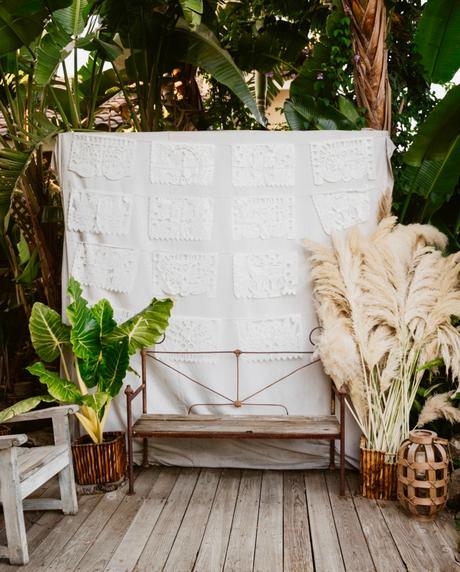 One of my favorite things to add to a party these days is 
a photo booth.
Time seems to go by so fast these daysespecially at parties.I really appreciate having loving memories of the Peopleat a party.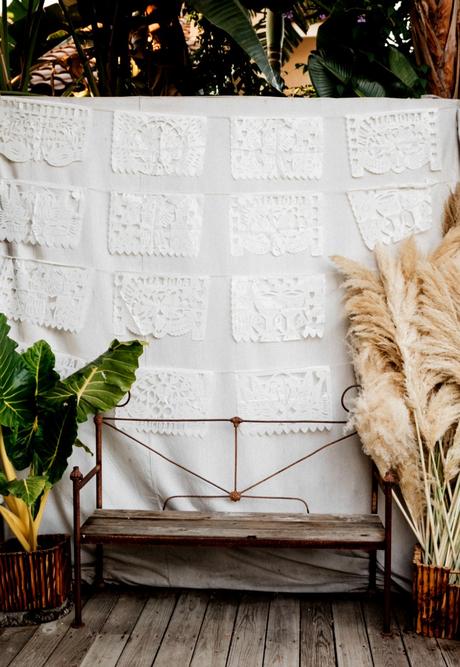 I added more of the 
Mexican bridal garland
 to my framed canvas backdrop
Another way to tie the party elements together
and 
create a beautiful backdrop.
We added  a large
 'bouquet' of pampas grass
for some bohemian flair.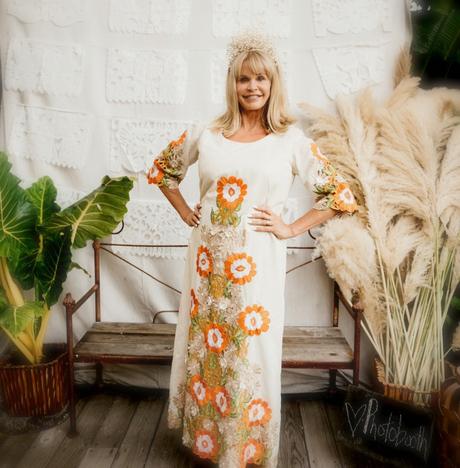 For the night's festivities I chose to wear my
vintage 'Hostess Dress'
that I found in Palm Springs.
And it worked like a charm.
The dress spoke to the occasion with it's full embroidery front and back
and 
just as important
moved with such hostessing ease
I think it's a type of dress that need a resurgence!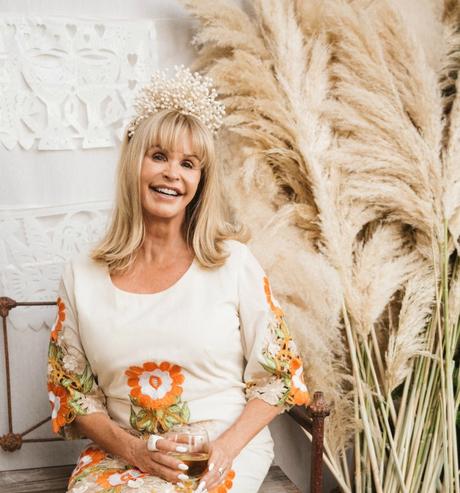 And of course the occasion called for a Crown!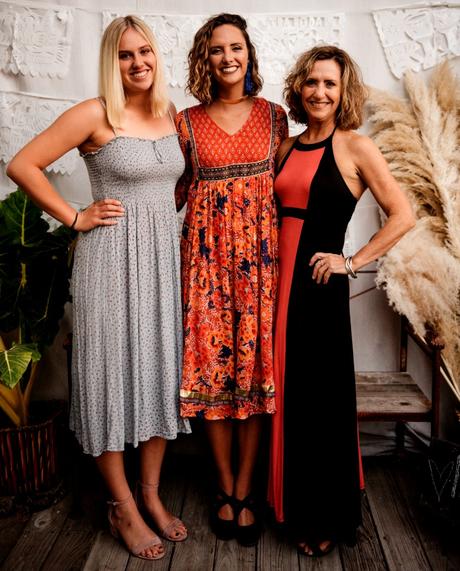 Here is our gorgeous Bride To Bewith her lovely sister and beautiful mother!Megan's mother has raised two intelligent, strong, gorgeous young womenwho also are athletes at the collegiate level!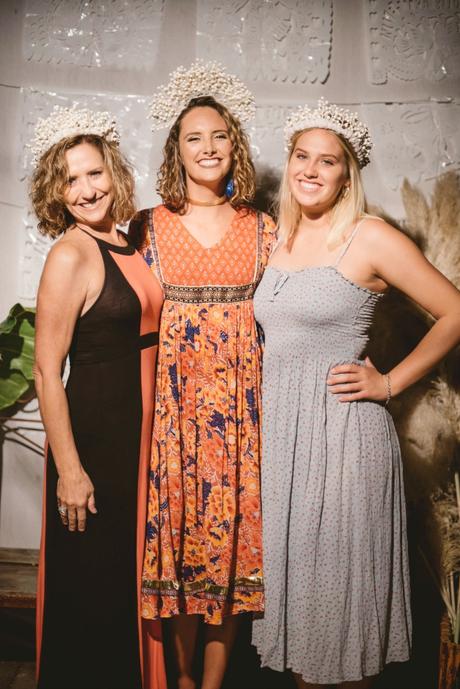 Aren't Crowns just perfect for a photo booth!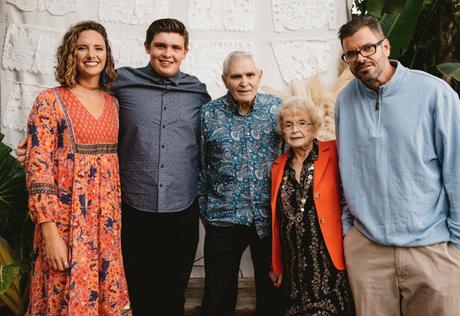 The engaged couple with my parents and brother.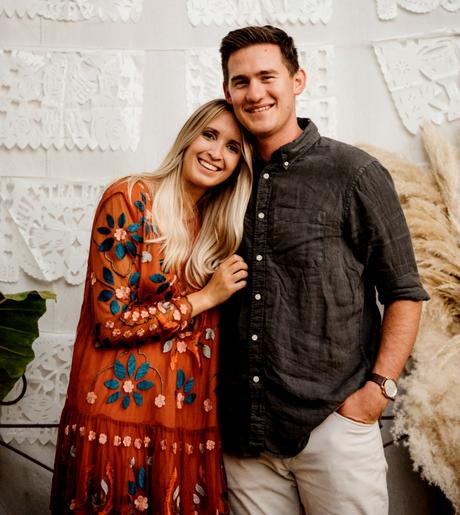 For those of you who have been following my blog for a while
can you believe these two will 
be celebrating their two year anniversary next month!
It seems like we were just planning our  darling daughter's wedding to her incredible husband!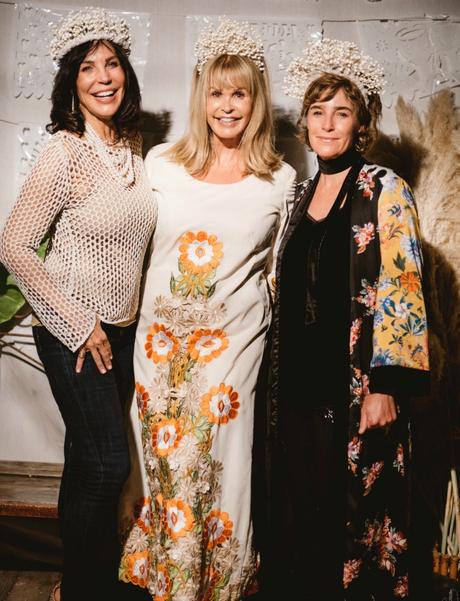 Two of my dear friends that not only came to the partybut came early to help me light what felt like a hundred candles!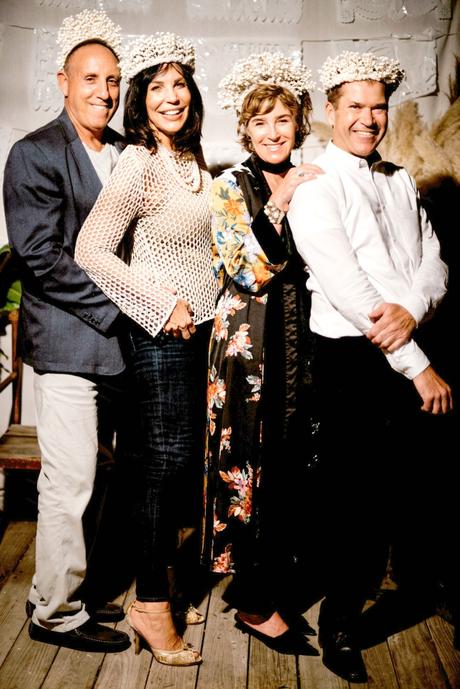 And they got their men to take this fabulous picture!!
See everyone can use a Crown!!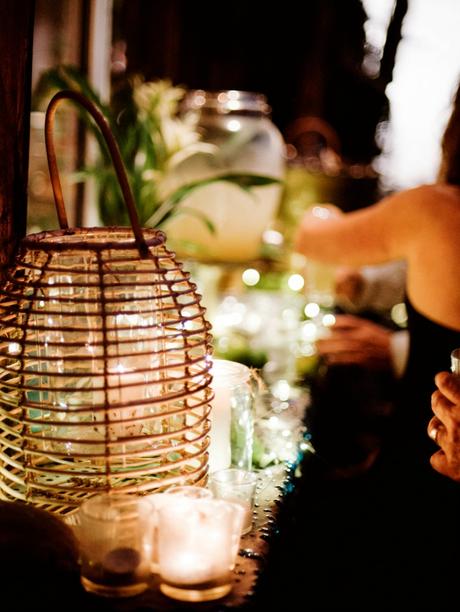 It ended up to be such 
a magical night all around!
And another chance for both side of family and friends
to come together to celebrate a 
very beloved couple!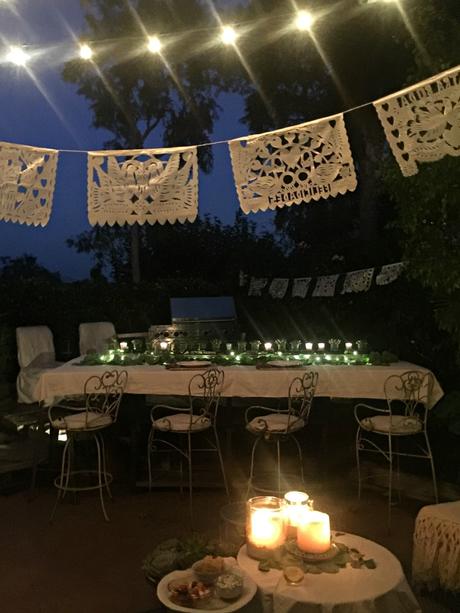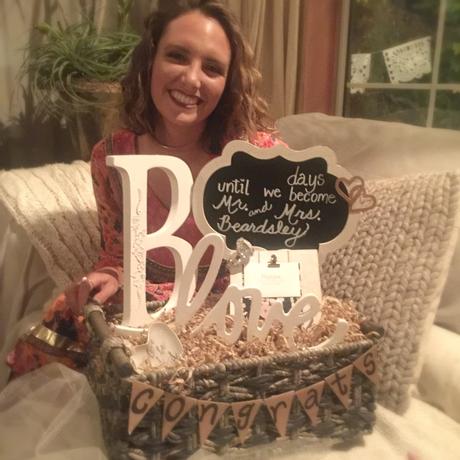 And there were 
presents to be opened as well!
How darling was this gift's presentation!
Complete with a chalk board sign to count down the days until
these two say I do!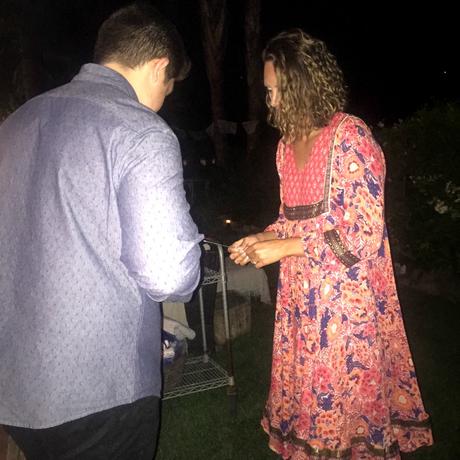 Wishing Hunter and Megan
a lifetime of love and happiness!
I am so excited for their wedding!!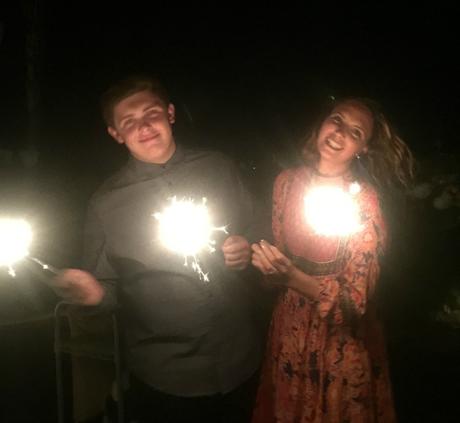 As always my friends
I wish you love and joyas you style your life