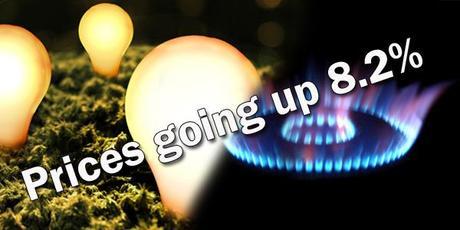 There are fears that a rash of energy price hikes just before winter sets in could mean the difference between heating and eating for many British families.
SSE is the first of the big utility companies to announce a winter price hike of a staggering 8.2%, but experts say the others will not be far behind in ramping up their energy prices.
Angry
The announcement by SSE that they are raining their prices by more than three times the rate of inflation was greeted with an angry response by consumers who already feel they are paying too much for their energy.
Many are genuinely worried that as prices rise ever higher they will be forced to choose between keeping themselves warm or having enough food on the table because there won't be enough money for both.
Martin Lewis from moneysavingexpert.com says: "This winter people will be genuinely choosing between heating and eating."
Fixed tariffs
But it's not all doom and gloom because a whole raft of new fixed energy tariffs have been launched which will allow consumers to lock down their prices until as far off as March 2017.
Despite the looming price rises, energy suppliers are still in a competitive market and are battling to offer the most attractive fixed term deals to beleaguered consumers.
Bewildering
The government have ordered the providers to simplify the bewildering range of different tariffs available and this has meant some of the cheaper, discounted variable tariffs are being scrapped like E-on's recent removal of their StayWarm tariff which was particularly aimed at the over-60s
Ann Robinson, director of consumer policy at u-Switch.com says: "While price hikes are never welcome, consumers can take some small comfort from the fact that suppliers are battling it out to offer the most competitive fixed price deals."
How do they work?
Fixed term deals are becomingly increasingly attractive, offering price security over a period of time.  The supplier commits to an agreed cost per unit of energy which avoids the notorious hikes caused by fluctuations in the wholesale price or seasonal shortages.
It doesn't mean you will pay a fixed amount because your bill will still depend on the amount of energy you use, but you will always be paying the same price per unit of energy used.
But you can still save money by sending in regular meter readings every month or quarter  so you pay for your actual usage rather than a projected usage calculated by your supplier which is often inaccurate
How can I switch?
The longest fixed rates currently on offer are from npower and EDF.  They both offer deals which will lock down the price you pay until March 2017, but there are many other tariffs on offer which may be suitable for you.
To find out more about switching check out our switching utilities page
Share this article: