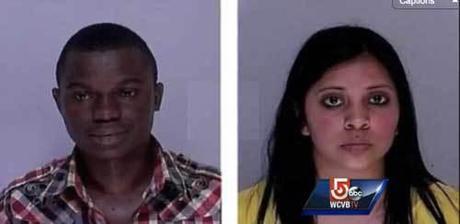 Two charged with elder assault at nursing home
By Norman Miller, MetroWest Daily News
FRAMINGHAM, Mass. —A Framingham woman told police she recorded herself and another employee of a Framingham nursing home abusing elderly Alzheimer's disease patients because she thought it was funny, authorities said.

The MetroWest Daily News reported Tuesday that Framingham police arrested Damaris Diaz, 18, and Samuel Ayekple, 25, on Monday after an investigation.
The pair both worked at Emeritus at Farm Pond in Framingham.
According to a police report filed in Framingham District Court on Tuesday, Framingham Police began investigating a report of abuse at Emeritus on April 30.
The report did not say what led them to investigate.
They spoke to Diaz, a certified nursing assistant at Emeritus, who admitted she had videos of abuse on her phone.
The videos showed "verbal and physical abuse by Diaz and Ayekple."
Diaz admitted she assaulted a 78-year-old woman with Alzheimer's disease on April 10. The video showed Diaz hitting the woman on her arms, flicking her ears and then pinching the woman's nose closed.
After letting the woman go, Diaz wiped the mucus from the woman's nose onto the woman's mouth, the report said.
Another video showed the same elderly woman partially nude. She also had a photograph of an 89-year-old man who is also a resident of Emeritus partially nude, the report said.
"She stated that it was immature of her to do what she did and an immature attempt at humor," the report said.
Another video showed Ayekple get into a boxing stance and then slapping a 71-year-old man with Alzheimer's disease repeatedly in the face and shoulders while the man tried to protect himself.
When the man tried to walk away, Ayekple twice slapped the older man's buttocks, nearly knocking the man over, the report said.
Ayekple told police the man had left his room, so he was trying to get the man back there. He would not answer if he thought the behavior was correct, the report said.
Police charged Diaz, of 66 Second St., with three counts of assault and battery on an elderly person and two counts of videotaping or photographing someone in a state of nudity.
Police charged Ayekple, of 14 Greenview St., with two counts of assault and battery on an elderly person.
Both Diaz and Ayekple posted $1,000 bail after their arrest. Both pleaded not guilty at their Framingham District Court arraignment on Tuesday. Judge Robert Greco did not increase bail, but ordered them to stay away from the victims and have no contact with the victims or their families.
He also ordered them to stay away from every patient at Emeritus.
Both Diaz and Ayekple have been fired from Emeritus, according to a company statement. The company said it has launched an internal investigation and has notified both the state Department of Health and the state ombudsman's office about the assaults.
"We are shocked and outraged that this type of incident took place at our community, and are taking these allegations very seriously," the statement said. "We have notified the families of this matter and sincerely regret the distress and sorrow they have experienced. The staff members involved have been terminated and we are assisting the police in their investigation."
Diaz and Ayekple are both due back in Framingham District Court on June 18 for a pretrial conference.
Read more: http://www.wcvb.com/news/two-charged-with-elder-assault-at-nursing-home/25839712#ixzz312st0AMg
Note: My own mother refused life saving heart surgery for fear that, as a woman who was legally blind, she would be subjected to people like this in elder care facilities. We lost her about a year later.
~ TD