I feel like this was a better year for actors than actresses. I had more choices for female roles but there were few that I felt I had to have on my list. With this list, I had fewer choices but I had much tougher time bringing down the list to 10. There are few in my honourable mentions that at any other day, I could easily swap with those in my list. But that's the bittersweet challenge of making such lists, I guess. So here are 10 that I finally settled on. 
But first, Honourable Mentions: James Gandolfini for Enough Said,
Jonah Hill for The Wolf of Wall Street, Michael Fassbender and Chiwetel Ejiofor for 12 Years a Slave and Irrfan Khan in The Lunchbox.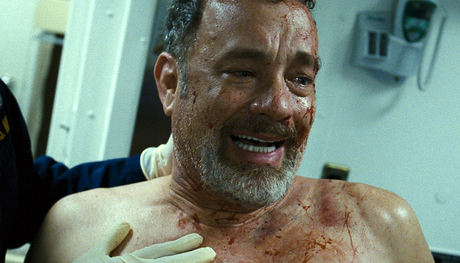 Tom Hanks for Captain Phillips

:

Even though Hanks has been around for more than three decades now, this role was reminiscence of old Hanks that all of loved, admired and revered but was missing somewhere for quite a while. This role required him to bounce back to his A-game and boy, did he rise up to the occasion? He is excellent from the word go here but, I said this after watching this movie for the first time and I still stick to it, any actor who can do even 10% of acting he does in last 10 minutes of Captain Phillipsdeserves every accolade he can get. Him not even getting nominated is easily the biggest oversight of this year's Oscars.
Leonardo DiCaprio for The Wolf of Wall Street

:

A LOT has been said about DiCaprio and this role and I am sure lot will be said about him in future. You may like this film or you may not; you may think his performance is one of his best ever or you may think of him as just too over the top but you can not deny the fact that, for better or for worse, The Wolf of Wall Street will remain in public discussion and in public conscience more than any other film of 2013. And as much as Martin Scorsese is responsible for that, DiCaprio's fearless, shameless, and completely out there performance is equally responsible.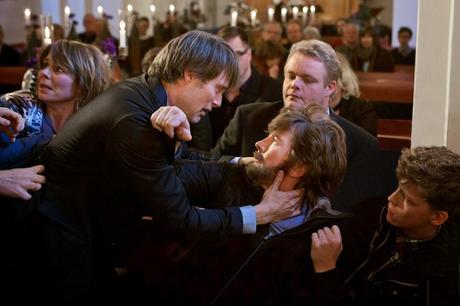 Mads Mikkelsen for The Hunt

: One of the reasons I don't rank these performances is I seriously do not want to choose between Hanks and Mikkelsen as my favorite of the year. Mads Mikkelsen is one of the actors who has made quite a name of himself in the past few years. His Lucas is confused, he is angry but more than anything else, he is dejected that his childhood friends actually believe rumors to be true.
Throughout this performance Mikkelsen wonderfully underplays him to show all these emotions but it also gives you such a contrast when he finally bursts. Just watching his face in any of these moments is witnessing a phenomenal performance.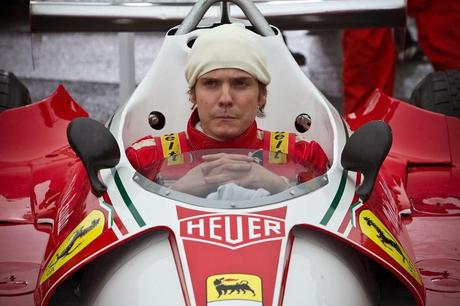 Daniel Bruhl for Rush

:

Rush won't go down as one of my favourites of the year is one but I really liked it and I think those who didn't went in with wrong expectations. They wanted another Sennaand what they got was Hollywood version of it. It is certainly not as good as latter but I never thought it was aspiring to be. It was being a pure racing film and it succeeds in being quite a good one. What I am absolutely certain about is Bruhl being best part of it. His intense, no-nonsense portrayal of Nicki Lauda elevated whole film to another level and as movie goes through ups and downs of Lauda's personal and professional career, he doesn't miss a beat.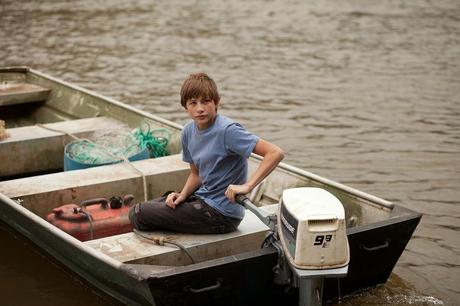 Tye Sheridan for Mud

:

If I have to choose, this guy will have to be my 'find of the year'. I haven't seen him in anything else before or since Mud but if his work in it is any indication, he deserves great things to come his way in future. His character initially is someone who almost blindly believes in true love, in finding someone that is made for you. But then he witnesses dire consequences of being at the wrong end of such relationships and not on just one or two but on three different occasions. Each encounter changes him forever for better or for worse and he portrays everything about this journey in glorious yet heartbreaking fashion.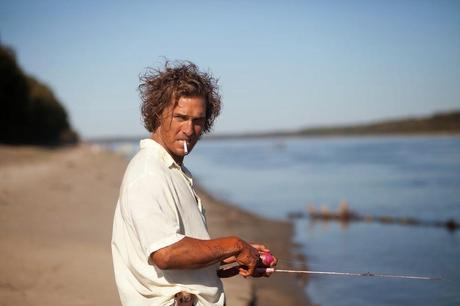 Matthew McConaughey for Mud/Dallas Buyers Club: Everyone knows that we are in the middle of McConaissance. This guy has been churning out one amazing performance after another for past few years and he even got his official seal with this year's Oscar. To tell you the truth, as much as I like him in Dallas Buyers Club and I certainly do like him in it, I think he was better in Mud. And I still want to recognize both films here because I think his Oscar was for his phenomenal run in the past few years and I want to recognize that as well. As good as he is in either of these two films, or even in True Detective for that matter, his 'McConaissance' as we have been calling it is far more impressive and worthy than any singular performance.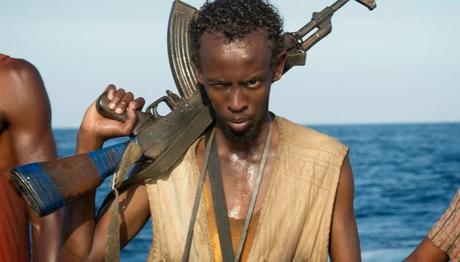 Barkhad Abdi for Captain Phillips

: With his fairytale type story, this man has already become a legend in his first ever screen appearance. Like Adele in my previous list, there are moments of this performance that seem like he is not acting at all, just being himself but as you see more of him, you realize he is being so much more. There is a moment in the film where he realizes that he has crossed a point of no return and there is a combination of viciousness, vulnerability, determination, fear on his face that I am not sure even many seasoned actors will be able to produce to such perfection. I just hope he doesn't become a one-time wonder. This guy seems to have a great potential and it will be damn shame to let it go wasted.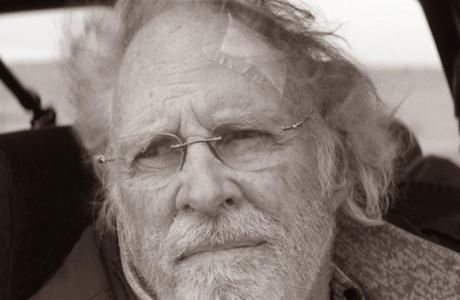 Bruce Dern for Nebraska: Unless you count Django Unchained(2012), I have never seen a film with Bruce Dern in it until this one. Woody Grant is a old man who as far as we can tell hasn't been a best of father or husband and he is not really sorry for that either. He has certain type on entitlement - he has served his country, paid his taxes, so he has right to live his life the way he wants. Based on just this, it is vet easy to dismiss him as a 'bitter old guy'. Even though he is a son-of-a-bitch, like any typical Payne character, there is a pathos to him and that is his redeeming quality. What Dern does best is conveying all this mostly through his body language and face. He doesn't really need words all that much.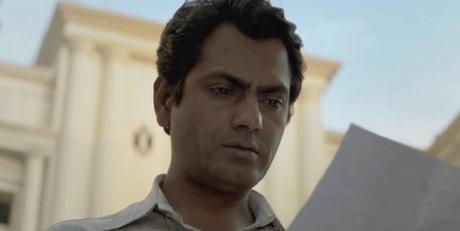 Nawazuddin Siddiqui for The Lunchbox/Bombay Talkies

:

Remember that obligatory Bollywood spot I was talking about earlier? Yup. Nawazuddin Siddiqui has been a revelation these past few years. The way he is churning out one great performance after another has certainly made him one of the most saught after artists in Bollywood. This year was no exception with him being part of two amazing movies as well. His story in Bombay Talkies was best of four short stories in film by sizable margin and he was best thing about it. In The Lunchbox, he is surrounded by other equally great performances but he certainly stands his own ground.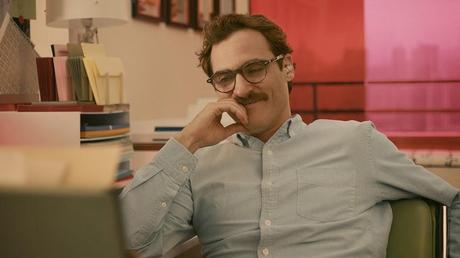 Joaquin Phoenix for Her: What makes me appreciate him more is this is not a kind of role I would imagine Phoenix in easily. I like it when an actor surprises you like that.
Spike Jonze got lot of acclaim for his futuristic love story. All of it was certainly deserved but Joanquin Phoenix also deserves a lot of credit for making thing work.

Phoenix portrays a loner we meet first to perfection. It is easy to believe that while he is not a bad person why his wife would want to be away from him. But more impressive is his charming performance when he starts falling for his OS, Samantha. Charming! Imagine Freddie Quell being charming!
And next one will be the big one - my favorite films!