As much as I love cooking different types of food, it can sometimes be a real pain to buy all the herbs, spices and whatnot to go with it, especially if you don't cook it very often.  Mexican and Thai food are prime examples of this.
So, because I'm struggling to find anywhere that does good Mexican food in Brussels and because I happened to walk past some whilst I was in the UK last, I picked up an Enchilada Dinner Kit.
These kits really are like cooking by numbers.  There are a few different companies making them and they are all pretty much the same.  So, in case you've not used one of these before, or if you fancy looking at pictures of melted cheese, this post is for you.
The kit box, tells you pretty much everything you need to know.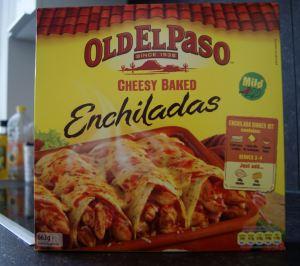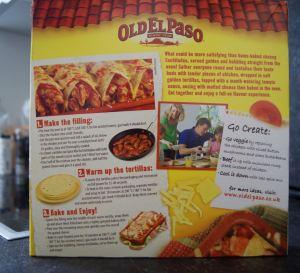 Inside it is the spice mix, tomato sauce packets and eight tortillas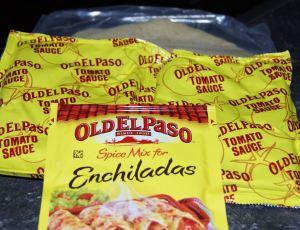 All you need to add is the chicken and cheese (you can mix it up by swapping the chicken for beef or something similar, or by adding any other veg you fancy to it.  I've popped mushrooms in before, which was very tasty – you NEED to have the cheese though)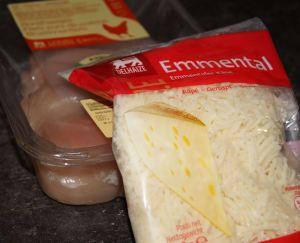 Pre-heat your oven (gas mark 4 or 180 degrees)  Then chop your chicken breast into bite size-ish pieces and fry it up in some olive oil.
While that's frying mix up the spice mix with the sachet and some water (I only use half the spice mix, due to me being a terrible wimp when it comes to hot food), when you mix it up it should look like this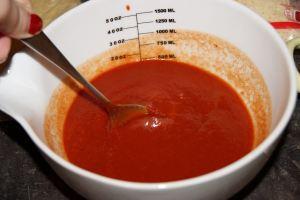 Pour half the tomato sauce over the chicken and half the cheese, then give it a good stir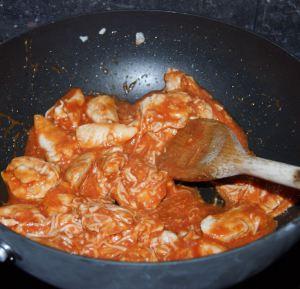 Pop your tortillas in the microwave for 35 seconds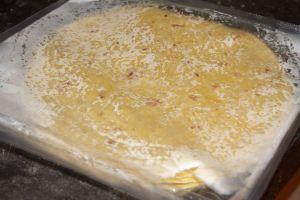 Pop a spoonful of the chicken/tomato/cheese mixture into a tortilla.  Boon chose to use his hands, but you should feel free to use a plate.  Ideally you want a line that goes from top to bottom of the tortilla.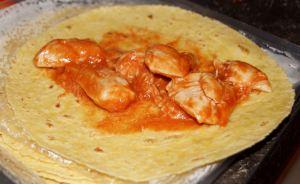 Then fold them (it is easier to use your hands for this bit) and pop them into a lightly greased oven dish. You won't be able to see them for long, so don't worry if they aren't perfect!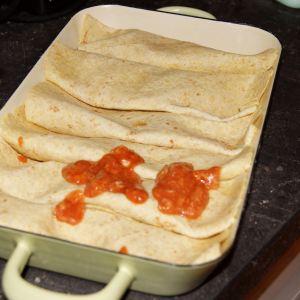 Pour the rest of the tomato mixture over the tortillas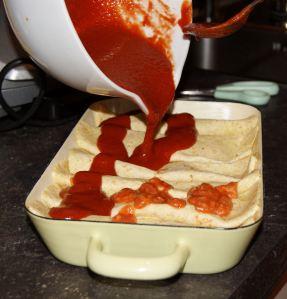 Make sure it's all covered in the sauce – we used a spoon to spread it out. Then cover it with the rest of the cheese – please bear in mind that there is of course, no such thing as too much cheese – so sprinkle away.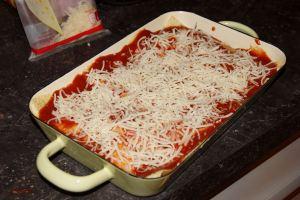 Pop your enchiladas in the oven and you have 10 minutes to get your side dishes ready.  Traditionally these should be served with re-fried beans, rice, nachos and guacamole, but I find them really filling and prefer add some vegetables to the mix.
An avocado, tomato and cucumber salad will do the job nicely…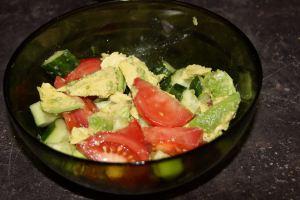 Check your enchiladas are looking nice and brown and yummy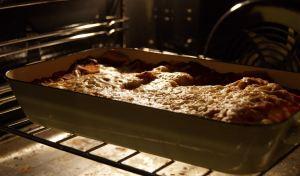 Take them out of the oven and serve them up.  We had two tortillas each, which left a couple for lunch the next day…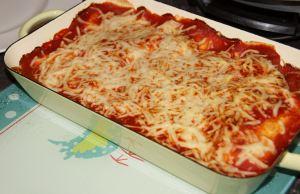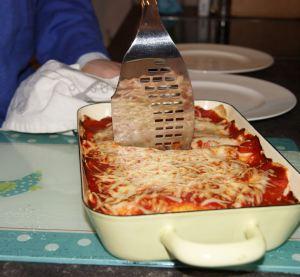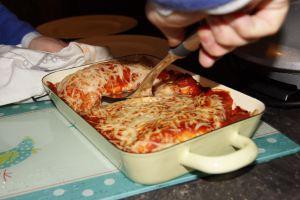 Bloody Lovely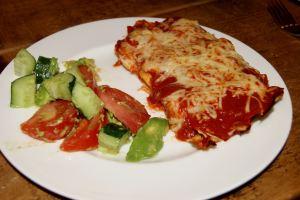 It occurs to me now that my enchiladas don't really look like the ones on the box at all. But I don't care. Have I mentioned that they are delicious?
Have you tried a dinner kit before?