According to a story by Sarah Kaplan in the Washington Post, NASA is preparing to send a probe closer to the sun than any human-made object has been before. If you're like me, this might conjure those childhood fascinations of being blasted by impossible heat—maybe in a science fiction story of a colony on Venus, or a crew hurtling out of control in a capsule being pulled inexorably toward the inferno of the heavens—on a hot summer's day. The Post story makes an inevitable reference to Icarus, the character from Greek mythology who flew too close to the sun. The tale has long been a parable for human overreach, but this time it seems that scientists are taking it literally. The technology used to shield the craft from Old Sol is incredibly impenetrable, and it may have applications as we try to figure out how to escape this planet we seem bent on ruining completely.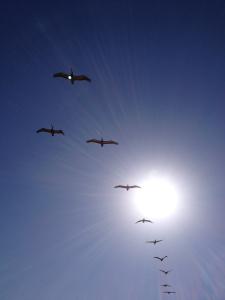 Earth flies around its personal star in what's become known as the Goldilocks Zone—that place where it's neither too hot nor too cold for life. But don't wander outside in the northern hemisphere in February without a coat. The weather down here can be fatal. We live on that teeter-totter of the extremes in which our frail bodies can survive. Temperatures range from -88 degrees at Oymyakon, Siberia (at this point whether Celsius or Fahrenheit hardly matters, but for the record, it's -126 F) to 136 in the Libyan Desert. In this incredible range of 262 degrees people can be found at all shades between. Stepping out my front door one January in Nashotah, Wisconsin the thermometer read -42. That was without wind chill. It was the kind of cold you could feel immediately through all the layers. Humans can't survive it without artificial means of heat. And yet we have a star overhead where temperatures reach 27 million degrees in its core. Out beyond Pluto our universe reaches near absolute zero, at -459 and change, on the Fahrenheit scale.
It's a universe of extremes. That friendly sun in the sky was recognized as a deity from earliest times. Even the Bible retains hints of clandestine solar worship. Icarus, however, lost his fear of extremism. There was nothing too outrageous to try. As long as wings of wax can hold you aloft, why not attempt to reach all those zeroes? Millions sound great until they're exceeded by billions. At that point even the sun isn't hot enough for some.