I have too many beauty products. I buy stuff pretty much for the sake of it a lot of the time... bad for my bank, good for the economy?! Doing my bit...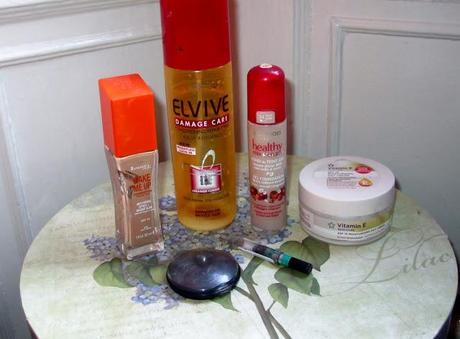 Superdrug Vitamin E Daily Moisturisor
Affordable - yes but this cream did nothing for my skin what so ever. I was such a big fan of the Superdrug Vitamin E range but this cream really did my skin no benefits. In the end, this cream became my foot cream! Waste not, want not. Definitely not repurchasing this cream.
Revlon Grow Luscious Eye Liner in Black
Apart from the Estee Lauder double wear eyeliner pencil, Revlon Grow Luscious eyeliner is my 2nd favorite. I don't really know why I didn't just get the Estee Lauder one as there is about £4 price difference?! Anyway, this eye liner is a lovely intense black that smudges to a soft smokey look wonderfully. Already repurchased! Good sign. 
Collection Healthy Mix Concealer in Light  (Not pictured)
One of my favorite under eye concealers ever. This stuff gives a lightning effect without being too unnatural, covers dark circles and bags to perfection and is affordable. Another product I have already repurchased! 

MUA Black eyeshadow 
This little guy was getting to the end of its life, it cracked & was a black eyeshadow mess then it got stuck up the leg of my joggies - do not ask how, I don't know! - and went flying across the room resulting in black eyeshadow being everywhere, EVERYWHERE. It was nearing it's end but I could have disposed of the remainder in a less messy way. Definitely repurchasing this wee guy. £1 for a decent enough eyeshadow that lasts ages & does its job well. If you don't cater-polt it across the room that this...

L'Oreal Elive Damage Care Conditioning repair spray
I bought this as part of a deal at least 8 months ago & have finally got round to using it up. why I bought it I don't know?! It is an alright product but I think more suited to a longer haired lady as I found it to just gather in the roots making my hair appear greasy.
Rimmel Wake me up foundation
Another whim purchase that I hated. This foundation is so drying it is crazy!  By the end of the day my face felt like a bit of sand paper. Not impressed with this which is a shame as I so wanted to love it!
Bourjous Healthy mix Serum in 53
This was my fake tan foundation shade that I used up before giving up the fake tanner for all eternity... maybe. Not really much to say on this one. I repurchased it in 52 and then in 51 as I got paler. This foundation & I have a long standing love affair.