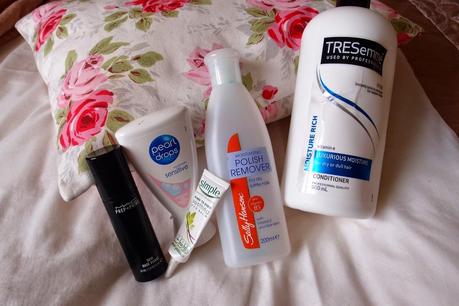 Everything always seems to run out at once in my world, so I thought instead of throw all of the products away I would share them on my blog! I guess it's kind of a favourites as well because if I didn't enjoy using the product, I wouldn't have emptied it!
01. Tresemme ConditionerStarting with a basic, but one of my staple products and one that I have always loved. I can always rely on Tresemme to make my hair silky smooth. It may seem expensive at around £5 a bottle, but this stuff really does last a while, and certainly does what it says on the bottle.
02. Simple Eye BalmThis is a product that I've featured in a few of my posts lately, I've only recently tried it and I've been really loving the benefits. It helps to keep my eyes bright and hydrated, and prevents the dryness that I used to get on my upper lid. It lasted about 2 months which I'm pretty happy with and I've already repurchased this.
03. Sally Hansen Nail Polish RemoverAgain another basic product but one I really love. I find most nail polish removers drying and dehydrating for my nails. As this one is for dry nails and contains essential nutrients, it really helps to hydrate and replace lost goodness in my nails. It's also the best I've found at removing glitter nail polish!!
04. MAC Prep + Prime PrimerI can't believe this has finally ran out, it was like a never ending produt - which is amazing obviously. I absolutely love this primer, it does everything a primer should do and helps my make-up to last all day long!
05. Pearl Drops Toothpaste for Sensitive teethThis is a product that I wasn't so impressed with. It didn't leave my teeth with that clean feel that I normally get after brushing my teeth. It did make a slight difference to the whiteness of my teeth which is good and they also haven't felt as sensitive lately. However I don't think I would repurchase this as it doesn't leave my teeth feeling as clean as I would like.