So I am sat quite happily typing up a blog post, on my own in the kitchen at the table, bothering nobody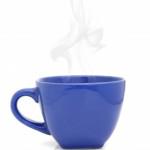 Image Credit
and enjoying the peace. The kids are all tucked up fast asleep and the husband is in the living room on his Xbox, some live thing he has where he wears daft headphones and talks about crap to his friends. I say crap as nothing he says remotely involves a conversation.
Is the kettle broke he asks
Does the kettle look broke? I don't think so, it cant be I made you a coffee less than an hour ago.
Why does he always want me to do something when my head is stuck in my laptop? Men are so bloody annoying.
So still half thinking about what it is I am writing I flick the switch on the kettle, it boils and in the cups goes the water. I drop the tea bag and sugar in mine and then make his.
One coffee coming up
He takes one mouthful and spits it out, ungrateful git that he is
Emma what the f@@k is that?
Coffee I tell him
I had only used the last tea bag and then picked back up the empty canister and spooned tea-leaves instead of coffee into his cup.
Oh well he might make his own next time eh