Article first published as Gwen Stacy Inspires 'The Amazing Spider-Man' on Technorati.
Spider-Man is back, finally. It's been five years since we last saw "Spidey" on the big-screen. The Sam Raimi directed Spider-Man trilogy from 2002 - 2007, captivated audiences worldwide and generated $2.5 billion in box office gross.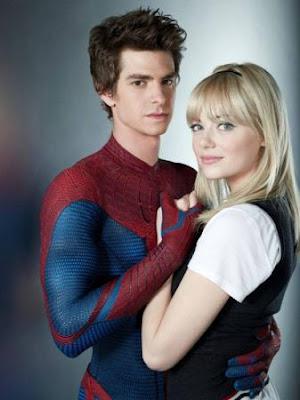 Andrew Garfield and Emma Stone star in Sony Pictures 'The Amazing Spiderman'
Spider-Man fans awaited the fourth installment, when Sony Pictures Entertainment announced to the world in 2010, their decision to reboot the franchise. Marc Webb (
500 Days of Summer
) was tapped to direct, with Andrew Garfield (
The Social Network
) cast to replace Tobey Maguire as Peter Parker/Spider-Man. As if that wasn't enough, the reboot focuses on Gwen Stacy as the love interest for Peter Parker, not Mary Jane Watson. Peter Parker/Spider-Man without Mary-Jane?Actually, yes. In fact, the Gwen Stacy character portrayed by Emma Stone, might end up being the difference maker in this reboot. Gwen Stacy, is not a new character in the Marvel comics Spider-Man. In the comics, Gwen Stacy has a profound effect on the life of the teenager Peter Parker/Spider-Man. Gwen Stacy in 'The Amazing Spider-Man' film, is beautiful, popular, loves science and is the valedictorian of her class. Sounds like a girl that would interest Peter Parker, right? Of course, the challenge is how does an orphaned teenager with a less than solid sense-of-self, and a big secret, attract his dream girl?As much as Spider-Man is about the adventures and battles of a high school student with amazing arachnid superpower,  it's also always been about a boy and his love for a girl. Marc Webb is a director that knows how to capture the ebb and flow of relationships between the sexes. Intelligent, beautiful, strong-willed females and the impact they have on the men in their lives is a specialty of Webb. Emma Stone as Gwen Stacy and Andrew Garfield as Peter Parker/Spider-Man have genuine chemistry in the film. Take a look at this clip from the film:
Sony's decision to reboot the beloved Spider-Man franchise is a bold move. Will the Gwen Stacy/Peter Parker relationship coupled with a tweaked backstory be enough for Spider-Man fans worldwide? Will audiences embrace Emma Stone and Andrew Garfield in Marc Webb's reboot?'The  Amazing Spider-Man' opens on July 3, 2012 at 12:01 a.m on Imax screens across the country.