I want to preface my Top 10 of 2011 list by telling you two things. First off, I haven't seen every single movie that came out this year, so yes, some of your favourites may not have been included. Sorry.
Secondly, I kind of hate Top 10 lists. Not all of them, just the ones that are insincere, copies of every other Top 10 list that's been published and republished all over the web. I think someone's Top 10 list should be a reflection of the things that they enjoyed, were moved by or recommended the most. Not whatever else everyone said was the best.
These are the movies that made my year, either by making me smile, cry or ideally, both. If you didn't like them, I totally get it and feel free to sound off in the comments explaining why. But I did. And this is my list, after all.
10) 50 / 50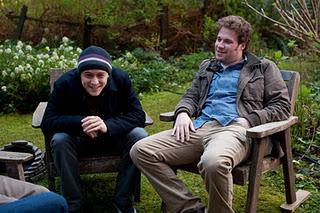 I was predisposed to love 50/50. I have been in love with Joseph Gordon-Levitt and Seth Rogen since 3rd Rock from the Sun and Freaks and Geeks. But I think I would have been all in with this movie even if they had not been its stars. This dramedy tackled one of the toughest on-paper subjects (a young man with terminal cancer) with remarkable ease and wit, something that is almost always ignored in similarly themed films. Written by an actual cancer survivor (Rogen's actual close friend Will Reiser), 50/50 was one of the most realistic portrayals of the disease I've seen, see-sawing between the joy of life and the infinite sadness (and scariness) of death.
9) The Help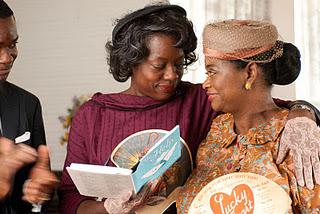 The Help was one of the most dividing movies of 2011. People either dug into the Southern fried feminist undertones with reckless, chocolate pie grinning abandon, or wanted to throw it out with the rest of the white-washed African American triumphs they've seen countless times before. I was most definitely part of the first group. Having read the bestselling Katherine Stockett novel of the same name, I found the film to be a breath of sweet tea-soaked fresh air. While the book focused mainly on Skeeter (the wannabe journalist played by Emma Stone) and her attempts to record the black maid's experience, I thought the movie allowed the title characters (Viola Davis' strong-willed Aibleen and Octavia Davis' strong-worded Minny) take center stage. By the end, I wasn't rooting Skeeter to show up the evil, racist Hilly Hollbrook (a crazy, cold sore-covered Bryce Dallas Howard), I was hoping that Aibleen, Minny and all the other help's voices would finally be heard. And I think they were.
8) Crazy, Stupid, Love.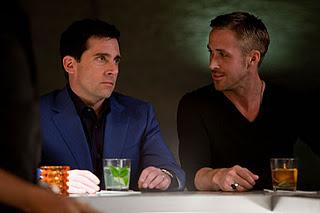 Crazy, Stupid, Love.'s title is horribly misleading. Yes, it might be slightly crazy in moments (see: Marisa Tomei's lap-jumping cameo) and it is most definitely about love. But really, there's nothing stupid about it. In fact, it may just be one of the most intelligent romantic comedies that has hit theatres since Harry met Sally. All of the love stories -- Steve Carell and Julianne Moore's recently-separated struggles, Emma Stone and Ryan Gosling's twentysomething lust, and Jonah Bob's awkward attempts to woo his older babysitter (Analeigh Tipton) -- were equally engaging in a genuine, relatable way. Sure, like every rom com, it succumbs to the occasional cliche here and there, but it always owned up to them (see: Carell literally saying, "What a cliche ..." after rain starts pouring down on him during a particularly dramatic moment). And unlike the abs of one cast member (or say, New Year's Eve), none of its performances seemed fake or phoned in. I just got the sense that every actor involved had crazy love for this script, making it hard not to feel the same.
7) Bridemaids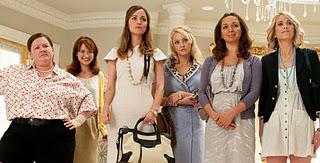 Bridesmaids, on the other hand, was perfectly titled. This hit, which was sadly a surprise hit in the eyes of almost everyone, proved that the age old expression, "Always the bridesmaid, never the bride!" is a crock of shit. And piss. And projectile vom. The Paul Feig-directed film, which had Kristen Wiig attempting to cope with her closest gal pal's (Maya Rudolph) upcoming marriage and new BFF (Rose Byrne), celebrated the Fanny Bryces of the world, demonstrating that contrary to what many a male-oriented gross-out comedy has suggested, funny girls and ladies are not just one-dimensional, klutzy-yet-cute chicks with only men, make-up and their baby makers on their minds. They're the real, equally revolting deal, with actual problems worth guffawing, gagging and getting down to Wilson Phillips to and delightfully ugly senses of humor to match. Melissa McCarthy may have run away with every scene she was in, but if Wiig and BFF Annie Mumulo aren't nominated for Best Original Screenplay at the Oscars, I may have to sick my female fight club on 'em.
6) Beginners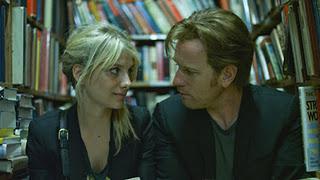 I know my fellow Filles won't agree with me on this one, but I found Beginners to be indie movie magic. The Mike Mills film is a quiet one, filled with dry humor and slow-building emotions, but when it hit me, it left a loud and proud mark. Following a mopey, single hipster (a Urban Outfitted Ewan McGregor) and his newly out-of-the-closet father (a terrific, ascot-rocking Christopher Plummer) as they navigate their first real relationships (with Melanie Laurent and Goran Visnjic, respectively) while trying maintaining their stilted one with each other, it explored something that I could immediately relate to: finding your true self without losing the people that loved you for your still-developing one. And it did it using a mixed timeline, slightly out-of-place graphics and one hell of a star dog.