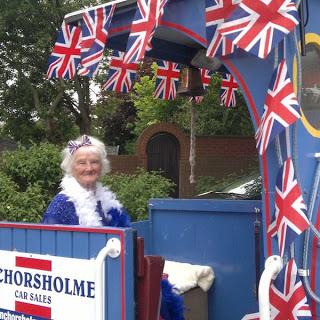 This post is about one of the well known character's of Poulton who passed away last year.  Emily Hall, aka "The Queen of Poulton" left us on 14th August 2012, aged 92.  Starting life as an orphan,  Emily had dedicated her life to other people as a nurse.  She left no family behind and yet she left a legacy within the hearts of those who met her, even just for a moment.

Whether you recognised her as the Teddy Lady (for all the teddy's lining her small cottage window), The Queen (always dressed elegantly), or the Blackpool fan (who rallied support in uniform of orange with a fierce spirit and a great smile), you never forgot her.  She was kind hearted and generous, always giving gifts and making people laugh.

I saw her in the Trinity Hospice whilst visiting a friend, a short while before Emily passed away.  Even in such a prone and vulnerable situation, Emily's character and light could fill up a room. 

So for those who cared about her and loved her, I dedicate today's poem.  It is hardly sufficient to describe a life that touched so many, but it is meant with the best of intent.  Emily will always be missed.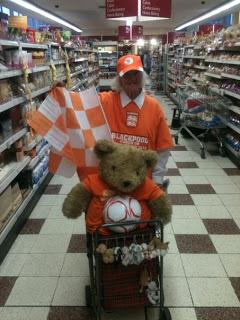 Parentless child, 
There were no limits to your kindness,
Elegance beget humility in a swirl of grace and fun.
Recognized by all, those closer bathed in privilege
Of being touched by great spirit.
In swathes of color and oodles of grace,
You could light up smiles, young and old,
You were the heart of Poulton regally poised
On Thomas the Tank, Union Jack adorned.
Teddies lined your window, delighting those who passed,
Oh mighty tangerine warrior chaperoned by tangerine bear,
Rousing spirits and raising cheer.
A nurse, a lady, a teacher, a friend,
Sometimes a glass collector when you had a hand to lend.
Your wisdom passed on to those you held dear,
"I make my own happiness inside myself."
Ever immortalized now in Market Square,
You are loved and you are missed.