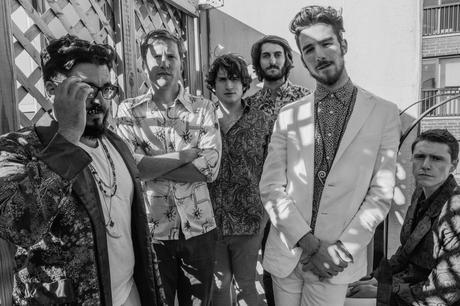 Bursting with exceedingly unique melodies and groovy rhythms, EMEFE's newest EP, Time, takes their multi-instrumental prowess to new heights. As chunky synth notes overlay nimble guitar riffs, the release manages to be fun without losing an edge of intrigue. The instrumentation never remains the same throughout each song — instead, the band relies on shifting landscapes and sounds to leave listeners on the edge of their seats. Stream the release above, and be sure to catch their release show with us at Trans-Pecos this Sunday!
You can also pre-order the EP here, and get to know a bit more about Time directly from the source below!
The "Time" EP is a culmination of influences and ideas that have been building over the past 6 years that we've been a band. We, along with our fans who have stuck with us through the years, have been on quite a journey together to this very moment, evolving through afrobeat, funk, pop… and the "Time" EP is the product of that exploration. Our favorite artists were always searching for some way to evolve, and they are always moving forward as a result. The songs on the "Time" EP look forward to what is possible, while always incorporating and respecting the music that has moved us up to this point.
The "Time" EP also looks to the future in its physical presentation. The EP comes in USB form, engraved with the EMEFE logo, hand-numbered, and delivered in a small pouch with stickers, a temporary tattoo, and small collectible lyric cards. In addition to containing the songs and album art, the EMEFE USB contains videos from the making of the EP, hand-drawn album credits & lyrics, lyrical GIFs and JPEGs, and much more. We want to offer our fans the most personal and interactive experience we can with our given resources, to go along with the music we've made.
Tour Dates
5/15: Brooklyn, NY @ Trans Pecos (EP Release Show)
6/18 – Wurtsboro, NY @ Destination Moon Festival
6/25 – Asheville, NC @ All Go West Festival
6/29 – Montreal, QC @ Montreal Jazz Festival
6/30 -Rochester, NY @ Xerox Rochester International Jazz Festival
7/01 – Rochester, NY @ Xerox Rochester International Jazz Festival