This will come as a surprise to no one, except maybe Drew Barrymore.
The Obama administration knew Muslim terrorists planned to attack Benghazi.
Americans in Benghazi attack sent distress calls, pleading for their lives.
Benghazi survivors claimed that CIA delayed rescue team & nixed air support.
And instead of leaving no man behind, the White House orchestrated propaganda blaming terrorist attack on a video.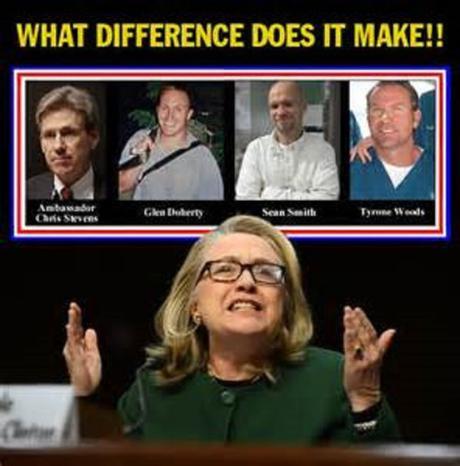 Judicial Watch today released a new Benghazi email that shows DOD offered State Department "forces that could move to Benghazi" immediately (with the specifics blacked out).
The email was from then-Department of Defense Chief of Staff Jeremy Bash to State Department leadership immediately offering "forces that could move to Benghazi" during the terrorist attack on the U.S. Special Mission Compound in Benghazi. In an email sent to top Department of State officials, at 7:19 p.m. ET, only hours after the attack had begun, Bash says, "we have identified the forces that could move to Benghazi. They are spinning up as we speak."
Of course, the most transparent administration evah redacted the details of the military forces available, oddly citing a Freedom of Information Act (FOIA) exemption that allows the withholding of "deliberative process" information.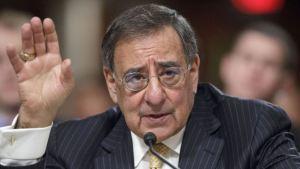 Was he lost in the "fog of war", too?
Bash's email
seems to directly contradict testimony given by then-Secretary of Defense Leon Panetta before the Senate Armed Services Committee in February 2013
. Defending the Obama administration's lack of military response to the nearly six-hour-long attack on the U.S. Consulate in Benghazi,
Panetta claimed
that
"time, distance, the lack of an adequate warning, events that moved very quickly on the ground prevented a more immediate response."
The first assault occurred at the main compound at about 9:40 pm local time – 3:40 p.m. ET in Washington, DC.  The second attack on a CIA annex 1.2 miles away began three hours later, at about 12 am local time the following morning – 6 p.m. ET.
Here's the what the newly released email reveals:
From: Bash, Jeremy CIV SD [REDACTED] Sent: Tuesday, September 11, 2012 7:19 PM To: Sullivan, Jacob J; Sherman, Wendy R; Nides, Thomas R Cc: Miller, James HON OSD POLICY; Wienefeld, James A ADM JSC VCJCS; Kelly, John LtGen SD; martin, dempsey [REDACTED] Subject: Libya
State colleagues:
I just tried you on the phone but you were all in with S [apparent reference to then-Secretary of State Hillary Clinton].
After consulting with General Dempsey, General Ham and the Joint Staff, we have identified the forces that could move to Benghazi. They are spinning up as we speak. They include a [REDACTED].
Assuming Principals agree to deploy these elements, we will ask State to procure the approval from host nation. Please advise how you wish to convey that approval to us [REDACTED].
Jeremy
Jacob Sullivan was Deputy Chief of Staff to Secretary of State Hillary Clinton at the time of the terrorist attack at Benghazi.  Wendy Sherman was Under Secretary of State for Political Affairs, the fourth-ranking official in the U.S. Department of State. Thomas Nides was the Deputy Secretary of State for Management and Resources.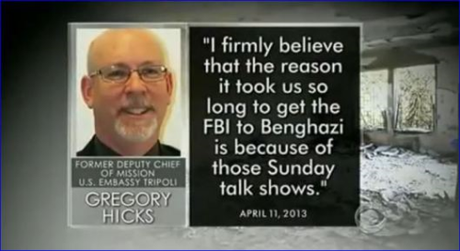 The timing of the Bash email is particularly significant based upon testimony given to members of Congress by Gregory Hicks, Deputy Chief of Mission of the U.S. embassy in Tripoli at the time of the Benghazi terrorist attack. According to Hicks' 2013 testimony, a show of force by the U.S. military during the siege could have prevented much of the carnage. Said Hicks, "if we had been able to scramble a fighter or aircraft or two over Benghazi as quickly as possible after the attack commenced, I believe there would not have been a mortar attack on the annex in the morning because I believe the Libyans would have split. They would have been scared to death that we would have gotten a laser on them and killed them."
The new email came as a result of a Judicial Watch FOIA lawsuit filed on September 4, 2014 (Judicial Watch v. U.S. Department of State (No. 1:14-cv-01511)), seeking: Records related to notes, updates, or reports created in response to the September 11, 2012 attack on the U.S. Consulate in Benghazi, Libya. This request includes, but is not limited to, notes taken by then Secretary of State Hillary Rodham Clinton or employees of the Office of the Secretary of State during the attack and its immediate aftermath.
Judicial Watch President Tom Fitton said, "The Obama administration and Clinton officials hid this compelling Benghazi email for years. The email makes readily apparent that the military was prepared to launch immediate assistance that could have made a difference, at least at the CIA Annex.  The fact that the Obama Administration withheld this email for so long only worsens the scandal of Benghazi."
Thanks goodness for the work of the Judicial Watch. Donate to their organization here.
DCG